SARL TODAY!
The Office at the NARC is closed during the Lock Down period. Kelley is working from home and you can contact her on admin@sarl.org.za and/or 087 822 1464.
---
AMAZING CONTACTS ON 46 YEAR OLD AMATEUR RADIO SATELLITE - Brian Jacobs ZS6YZ reported in his weekly "Focus on VHF and Above" that there is no doubt that this hobby of ours is the greatest scientific hobby on earth. There is so much to do and experience. The possibilities are endless. Two recent activities reminded me of this again.
Tom Ambrose ZS1TA, from Cape Town has recently reported AO-7 contacts. Why is this remarkable? There are plenty of satellites up there!
Well, the satellite was launched on 15 November 1974 which is 46 years ago. Technology has progressed dramatically since then. The satellite went silent due to a faulty battery in 1981. That was 7 years after launch which was a good life for a satellite designed to be operational for 3 years. In 2002, 21 years since it went silent, one of the shorted batteries became open circuit and the spacecraft was able to operate off it's solar panels again. It can operate while in sunlight so its operation is intermittent, but it is still being reported almost daily since January 2020. Read more, listen to contact and view video here
---
SARL ON-THE-AIR BULLETINS AND AMATEUR RADIO TODAY PROGRAMME 31 May 2020
SARLNEWS in English with Herman Erasmus here
SARLNUUS in Afrikaans met Irene Myburgh luister/laai hier af
Note Amateur Radio Today will be on 145,725 MHz from Pretoria . Andy ZS6ADY will transmit on 145,750 MHz
AMATEUR RADIO TODAY, SARL's weekly actuality programme about Amateur Radio and technology hosted by Hans van de Groenendaal ZS6AKV Download/listen here
ARTODAY for 31MAY2020 now available
Amateur Radio Today on 80 metres on Mondays - On Mondays Amateur RadioToday is transmitted at 19:30 local time on 3620 kHz by Andy Cairns ZS6ADY.
Reception reports are invited. Please send your report to artoday@sarl.org.za. Please give details of the signal strength antenna and location.
Text bulletins from 1 March 2020 can be found
at https://sarlnewsbulletin.wordpress.com/
---
SOLAR MINIMUM, INTERRUPTED: Yesterday, in the pits of the
deepest Solar Minimum of the Space Age, the sun unleashed a flurry of solar flares. One of them, an M1-class explosion, was the strongest flare in nearly 3 years. The source of the activity is now turning toward Earth as it rotates into view over the sun's northeastern limb: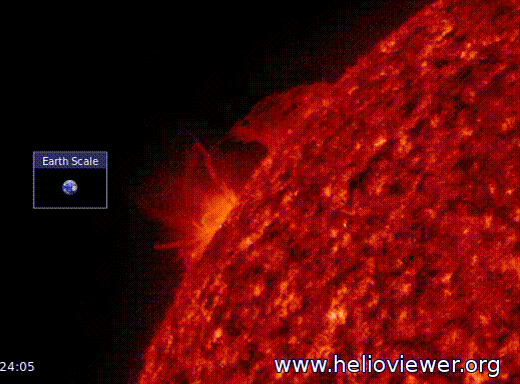 The question now: What is it? Early views of the emerging active region suggest that it is a relatively small sunspot surrounded by a vast field of magnetic froth (plage). The magnetic polarity of the region marks it as a member of new Solar Cycle 25.
The sunspot might already be decaying. If so, the flares will subside just as the region turns toward Earth, and the quiet of Solar Minimum will resume. It is too soon to say for sure.
---
YOTA online – livestreams of session #1
To listen to the first session which was live on YouTube on 28 May with close to 90 participates from most parts of the wordl, Follow the link: https://www.youtube.com/watch?v=dzSsYo_nkgQ&t=575s
WHAT is YOTA online? The Youth Working Group within the IARU Region 1 created a newly developed program called "YOTA online". In these monthly gatherings we will try to bring the YOTA feeling towards the online community and spread the word that there is youth in ham radio. A YOTA team consisting of active youngsters will present different topics, while answering questions from the community. There will also be a section where different recent YOTA event hosts will be able to present the highlights, while also giving participants the opportunity to share stories. This will be followed by a Q&A session with the group presenting. At the end of the event we will also do a prize raffle amongst all participants.
WHY? Due to the COVID-19 pandemic all planned YOTA events until September 2020 had unfortunately been cancelled or postponed. This included, for example, the Summer Camps in IARU Regions 1, 2 and 3, as well as Subregional Camps, Youth Contest Programs, and our presence at the HAMRADIO 2020 in Friedrichshafen. Taking this into account and the fact that lots of youngsters want to join YOTA activities each year gave us the idea to create an interactive format to gather youngsters online on a regular basis.
---
New Satellite Book now available - The new ARRL Amateur radio satellites for beginners is now available in South Africa. With the opening of e-commerce, Postnet is operating again and books can be sent to your nearest Postnet. You can make contacts through amateur radio satellites, and even with the International Space Station, using equipment you probably own right now! All it takes is the right information, which you will find in Amateur Radio Satellites for Beginners by Steve Ford
There are dozens of spacecraft in orbit just waiting for your signals, and more are being launched every year. This book is your guide to a whole new world of operating enjoyment.
Amateur Radio Satellites for Beginners will introduce you to new experiences that you may have thought were out of your reach. Start reading and discover how easy it can be! To order the book visit www.amateurradio.org.za. 115 pages plus index.
---
The 1820 British Settlers. The ZS1820S call sign celebrates the 200th anniversary of the arrival of the 1820 British Settlers in the Eastern Cape area of South Africa.
The call sign will be active during 2020 on various bands and modes. QSL is via the bureau to ZS2EC, also via LoTW, ClubLog and QRZ. https://en.wikipedia.org/wiki/1820_Settlers
---
---
Approval of Matters due to Postponement of the 2020 SARL Annual General Meeting
310 Members out of 1 622 Members cast their vote, 19,1%!
Motion 1 - Approve un-audited interim accounts of income and expenditure and balance sheet as at 31st December
Agree: 293; Disagree: 7; Abstain: 10
Motion 2 - Approve proposed budget for the ensuing year - 2020-21
Agree: 296; Disagree: 4; Abstain: 10
Motion 3 - Approve proposed subscriptions for the following year - 2020-21 (There is no change in the subscriptions from last year - a 0 % increase.)
Agree: 300; Disagree: 4; Abstain: 6
Motion 4 - Approve election of auditor for the ensuing year 2020-21
Agree: 304; Disagree: 2; Abstain: 4
---
The May 2020 Radio ZS is available for download. Read on page 37 about the Backyard on the Air SOTA and POTA activity for 1 May 2020.
---
RAE postponed to Saturday 27 June 2020
RAE Registration extended to 31 May 2020
Thank you to everyone for all your efforts during this time for proceeding with the RAE. In order to give candidates more time and to facilitate HF assessments, it has been decided to move the examination date to Saturday 27 June 2020. Hopefully, this will give added time for revision and for the completion of the HF assessment process. A request is made to the radio amateur community to be on air to help the RAE candidates make the required number of contacts for the HF assessments – dates and times from the individual clubs will follow closer to the time. Together, we can make the RAE a resounding success.
Please feel free to contact me if you have any further queries. Stay healthy. Noel Hammond, ZR6DX RAE Manager
---
Due date for the Renewal of Radio Frequency Spectrum Licences extended https://www.icasa.org.za/news/2020/due-date-for-the-renewal-of-radio-frequency-spectrum-licences-extended
---
Monitor VHF beacons and contribute to science- Monitoring beacons is an excellent way to determine how VHF propagation conditions change over a period of time. While in the planning stage the SARL beacon group have not yet progressed to an automated beacon monitoring and reporting system. "We are not quite there yet with the beacon reporting Bot on Telegram", Focus on VHF and above presenter, Brian Jacobs said. "In the meantime you can assist us by listening for the beacons and sending your reports to vhfnews@sarl.org.za.
The beacons that the group is interested in are:
ZS6JON on 144.440 MHz
ZS4AFV on 144.415 MHz
ZS0BET on 144.425 MHz
Please record the following information: Beacon heard, your callsign, your grid location, local time and the signal report and local weather information available. This will help us to get a better idea of the propagation.
---
Official QO-100 International Emergency Frequency - In order to coordinate potential emergency communications during the actual or any other crisis, the following frequency will be assigned as international emergency frequency on QO-100 NB Transponder:
Downlink: 10489.860 MHz
Uplink: 2400.360 MHz
SSB channel: max. 2.7kHz bandwidth . All users on QO-100 are encouraged to monitor this frequency, but keep it clear for emergency traffic!
---
2020/21 Amateur Radio License fee increase
On Wednesday 5 February, ICASA informed the SARL that in accordance with the CPI document published by Stats SA on 22 January 2020, the average CPI for 2019 is 4.1% which will be the percentage increase of ICASA fees. Please note that these fees will only be implemented from 1 April 2020 and all licences issued in the remainder of the 2019/2020 licence year will be required to pay the pro rata fee calculated on the old fees. The radio frequency spectrum fees will therefore increase to the following:
Minimum fee or 1 year licence – R 154.00.
The multi-year licences will increase as follows:
2 year licence – R 294.00
3 year licence – R 422.00
4 year licence - R 537.00
5 year licence – R 642.00
Radio Amateurs are reminded that it is their responsibility to ensure their license is up to date. If for some reason no invoice is received, check that ICASA has been informed of any address changes.
Avoid the hassles of having to renew each year, opt for a multi-year licence. Simply, when renewing pay the appropriate amount. On the EFT state 5 Year licence and your callsign. Also send an e-mail to specrev@icasa.org.za and dkuhrau@icasa.org.za with a copy of the EFT payment. The correct account for your ICASA Licence Fee is NEDBANK Account number: 14 62 00 29 27, Branch Code: 146245 - Corporate Client Services – Pretoria and in the reference field type in your licence number and call sign.
ICASA Licence Fees - DO NOT pay the ICASA licence fee into the SARL bank account, all moneys wrongfully paid into the SARL account will be refunded less the bank charges associated with these transactions.
---
AMSAT SA NEW SPACE SYMOSIUM DATE - The annual AMSAT SA Space symposium date has changed to Saturday 11 July 2020. While the call for papers is ongoing till the end of February, AMSAT SA is pleased to announce that Burns Fisher WB1FJ, of AMSAT NA will delivery two papers at the symposium: Fox-in-a-box, Fox telemetry reception using an inexpensive Raspberry Pi and a J-pole antenna including a discussion on the optimal positioning for a J-pole antenna for satellite reception and an overview of what is in orbit currently and expected in the near future and their features.
Prospective authors are invited to propose other papers by submitting a brief synopsis to admin@amsatsa.org.za before 28 February 2020.
---
Report interference and unauthorised use of amateur frequencies - If your transmission or repeater is interfered with by an unlicensed person (s), note as much detail as possible and report the case for investigation to the ICASA regional office in your area. By policing the amateur bands and reporting transgressions by non-licensed persons we protect the future of the amateur radio spectrum. Send a copy of your email to artoday@sarl.org.za to allow the SARL to monitor how wide-spread the problem is. For a list of ICASA Regional managers and contact details visit http://www.sarl.org.za/public/licences/licences.asp or click here.
---
Unlocking Amateur Radio Technology - The SARL hosted a very sucessful synposium on 12 April 2019 in Stellenbosch. It was attended by over 60 delegates. The symposium was supported by contributions from RF Design, Comtest, F'Sati, Giga Technology and AMSAT SA. The powerpoint presentations are available for download here. Download while still available .
---
Guidelines for a non SARL member to use the SA-QSL system- Phone Kelley at NARC (011 675 2393) and check that your correct information is on the database – license number and e-mail address are important.
Click on SA-QSL system link (on the left-hand side of the web page) and then click on "Need to Register". Follow the instructions on the screen. Your username and password will be e-mailed to you which you can use to logon in future.
SARL and not yet SARL Members are requested to check their Electronic QSLs on a regular basis.
---
2020 Advertising in Radio ZS and the SARL Web site
Radio ZS and the SARL web welcomes advertising. It is a source of information for readers. Send your advertisement for the League website to Hans, ZS6AKV at artoday@sarl.org.za and for Radio ZS to Dennis, ZS4BS at radiozs@sarl.org.za.
Advertising Rates (effective 1 January 2020)
Display (cameo) on home page and Radio ZS Strip advertisement (10 cm by 2 columns) - R600 pm - R3 000 for 6 months - R5 000 per annum
Commercial Hamad on home page - R100 pm - R400 for 6 months - R900 per annum
Terms and conditions
All contract advertisements content may be changed monthly on 5 working day notice
The rates are based on the complete supply of material in Jpeg unless otherwise negotiated. For artwork additional charges may apply as agreed. A design service is available at R400 per advertisement.
The content of the advertisements must comply with regulations and norms acceptable in South Africa
All advertisements are playable in advance by EFT to SA Radio League, ABSA, account no 4071 588 849 branch code 632 005
All correspondence and material must be sent to admin@sarl.org.za with a copy to artoday@sarl.org.za
HF Update with Dennis, ZS4BS - 30 May 2020
DXCC Yearbook. The 2019 ARRL DXCC Yearbook, which includes the Clinton B. DeSoto Challenge top scorers and the Annual Listing, is available for viewing and/or downloading on http://www.arrl.org/dxcc. The Annual Listing of DXCC membership contains the callsigns and credited totals for new awards and endorsements during the calendar year period from 1 January through 31 December 2019. The DXCC Honour Roll includes those who are within 9 Entities of the "current" Entity count for Mixed, Phone, CW and Digital modes. As of 31 December 2019, there were 340 Entities on the DXCC List and entry level DXCC Honour Roll was achieved at 331. In order to appear in this Annual List, you must have made a submission during the 2019 calendar year and an active award total must have increased by at least one point. All active Honour Roll members appear automatically, regardless of a submission.

INDEXA Newsletter. The Spring 2020 issue (#129) of the International DX Association's Newsletter is now available for download on the INDEXA website https://indexa.org/newsletters.html. This issue reports on the September 2019 DXpedition to Western Kiribati (T30L) and Nauru (C21WW) conducted by the Latvian team of YL2GM, YL1ZF, YL2KA and YL3JA.
PIRATE ALERT. A station signing A52CP on 20 meters using FT8 has been showing up. This station is a pirate!
Guantanamo Bay, KG4. Miguel, W1SRR will be stationed at Guantanamo Bay "for a minimum of 9 months from June 2020 to March 2021" and in his spare time will be active as KG4MA. He will operate SSB and digital modes on the HF bands and especially 6 metres; he is learning CW and plans to give that mode a try. QSL route to be announced.
Germany, DL. Volker, DL1WH will be active holiday style as DL1WH/p from Sylt Island (EU-042) between 7 and 19 June. He will operate mainly CW with some SSB. QSL via home call, direct or bureau.
France, F. Te Radio Club "Jean Bart" of Dunkirk (F6KMB) will be active as TM80DYN from 25 May to 8 June. QSL via F6KMB. The special call sign commemorates the 80th anniversary of Operation Dynamo, the evacuation of 338,000 Allied soldiers from the beaches and harbour of Dunkirk during World War II.
France, F. Michel, F8GGZ will be active as TM50PSG on 3 to 6 and 16 to 20 June and again on 23 to 28 July. The special call sign is in celebration of the 50th anniversary of Paris Saint-Germain F.C., the most successful French professional football (soccer) club in history.
England, G. Look for GB2CDK to be active on 1-12 June to mark the 150th anniversary since the death of Charles Dickens (9 June 1870), the greatest novelist of the Victorian era whose works are still widely read today. QSL via operator's instructions.
Canada, VE. Although the Formula 1 Grand Prix in Montreal has been cancelled, Jean, VE2JCW will be active as VE2SPEED between 1 and 30 June. QSL via Club Log's OQRS, or direct to VE2JCW.
USA, W. The Amateur Radio Club of the National Electronics Museum in Baltimore (MD) (http://www.k3nem.org/) will be active as W2W in commemoration of the anniversary of D-Day and the role of electronics in World War 2. Primary operation will be on 6 and 7 June, with additional operation possible on 3 to 5 and 8 to 10 June as operator availability permits. QSL direct to K3NEM.
---
Get your weekly copy of HF Happenings at www.sarl.org.za/hf_happenings.asp
Daily frequency predications: https://spaceweather.sansa.org.za/products-and-services/frequency-predictions/daily-frequencies Bloemfontein - Cape Town; Cape Town – Durban; Cape Town – NVIS; Cape Town – Pretoria; Durban – Pretoria; Pietersburg – Pretoria; Pretoria - NVIS
7 day frequency predications https://spaceweather.sansa.org.za/products-and-services/frequency-predictions/public-service-information Hermanus – Antarctica; Durban - Cape Town; Port Elizabeth – Pretoria; Pretoria – Auckland; Pretoria - Cape Town; Pretoria – Durban; Pretoria – Frankfurt; Pretoria - New Delhi; Pretoria - New York; Pretoria - San Francisco
Southern African Fauna and Flora https://zsfaunaandflora.wordpress.com/.
Contacts with stations on the African continent count towards the SARL's All Africa Award www.sarl.org.za/public/awards/awards.asp
Worldwide List of HF Beacons https://iaruhfbeacons.wordpress.com/
---
VHF+ UHF+ MICROWAVE NEWS - FOCUS ON VHF with ZS6YZ 17 May 2020
VHF, UHF and Microwave Record Table - the latest table of records is available from the VHF SA Record page. Click here to get a copy. Compiled and updated by Paul, ZS6NK - Send your record claim to zssixnk@gmail.com
---
FOCUS on VHF and Above is a weekly feature in the SARL's Amateur Radio Today on the air programme. It is produced and presented by Brian Jacobs ZS6YZ.
Audio verson 31 May 2020
Focus on VHF and Above 31 May 2020
There is no doubt that this hobby of ours is the greatest scientific hobby on earth. There is so much to do and experience. The possibilities are endless. Two recent activities reminded me of this again.
Tom Ambrose ZS1TA, from Cape Town has recently reported AO-7 contacts. Why is this remarkable? There are plenty of satellites up there!
Well, the satellite was launched on 15 November 1974 which is 46 years ago. Technology has progressed dramatically since then. The satellite went silent due to a faulty battery in 1981. That was 7 years after launch which was a good life for a satellite designed to be operational for 3 years. In 2002, 21 years since it went silent, one of the shorted batteries became open circuit and the spacecraft was able to operate off it's solar panels again. It can operate while in sunlight so its operation is intermittent, but it is still being reported almost daily since January 2020.
Tom writes this about his contact with LW2DAF on 4 May 2020 "Tracking and operating the Radio Amateur satellites is a fascinating facet of the wide hobby of Amateur Radio and the daily variations are interesting to observe but there is always some excitement to be had with the "birds".
Today a forty year old satellite in the form of AO-7 produced a stunning contact.
At 17:20 UTC a contact was completed between LW2DAF, Diego in Buenos Aires ( GF05rk ) and ZS1TA, Tom in Cape Town ( JF95fx ). Spanning a distance of 4329 miles ( 6927 km ) across the South Atlantic with both stations aiming at only 2 to 3 degrees on the horizon.
Both stations had been watching the orbit predictions for several weeks and the suitable opportunities only occurred occasionally with both stations seeing the AO-7 satellite at the same time. Electrical noise particularly in Cape Town hampered the efforts with only small snatches being heard from time to time.
Today however the noise levels were low and a perfect contact was possible with full call signs and reports being exchanged."
Here is the recording of this contact.
Tom made another contact via AO-7 with LW2DAF at 17:11 UTC on 23 May 2020.
Video WhatsApp Video view here
Remember this is 46 year old technology?
The 6m band is known as the "Magic Band" and a number of years ago a number of amateurs that I know used to regularly have their 6m antennas pointing North listening out for the TV stations that used to broadcast on the 6m bands as an indication that the band was open and then they would work 6m continuously until it closed again.
Typically the band is most active in the summer months, being December and January in the Southern Hemisphere and if one looks at the reporting tools like PSKReporter you will see much 6m activity across Europe at the moment.
The 6m band is one of those in between bands where there are a number of possible propagation modes.
Today, 99.99% of the time most amateurs will ignore the 6m band, which although it is a VHF frequency, almost every modern HF radio can do 6m FM and SSB, so you don't need any specialised VHF radio equipment.
Don't be fooled into thinking that this band is dead or is only usable in the summer months.
On 17 May 2020 Danie ZR6AGB decoded a 6m FT8 contact from S79VU, from the Seychelles. Danie tried to make contact, but was not successful.

Dick ZS6BUN also reported receiving a decode from Tom ZS1TA last weekend and regularly makes Meteor Scatter contacts with Andre ZS2ACP in Port Elizabeth using JT6M and last weekend had a MSK144 contact with Andrew, ZS2PA from Uitenhage.
Yes, making these types of contacts are not easy. You are not just going to switch on your radio, press the button and make a contact. Making these contacts requires a good deal of skill, dedication and yes, some luck as well. You will get lucky if you are consistently on the air and put out that call.
This is what makes our hobby so special. This is the magic of amateur radio, contacts are always possible. Everything we know about propagation are predictions. That is all it is, predictions. It is up to us to make it happen.
Do you have a beacon on any of the VHF and above bands?
We would like to request that all beacon owners send updated details of their beacons to Phillip ZS6PVT at zs6pvt@gmail.com. Phillip is the SARL Councillor responsible for Repeater Co-ordination and VHF/UHF Band Planning.
There are two VHF beacons here on the Highveld that we need reception reports on. If you hear either of the following beacons, send us an email with the beacon heard, your callsign, your grid location, local time and the signal report to vhfnews@sarl.org.za
ZS6JON on 144.440 MHz
ZS0BET on 144.425 MHz
The Bethlehem beacon's second antenna is currently pointing in the direction of Durban. We are looking for reports from KZN as well.
It looks like for a large number of us playtime is almost over and we will be returning to the salt mines.
Let us know what interesting project you or your group are busy with at vhfnews@sarl.org.za.
---