SARL TODAY!
SARLNEWS: AMATEUR RADIO TODAY - listen to these programmes on line or download to retransmit on local nets, a SARL service to Radio Amateurs.
Sunday 23 July 2017
SARLNUUS met Irene Myburg ZS6IEA luister/laai hieraf
SARLNEWS with Rory Norton ZS2BL download/listen here
AMATEUR RADIO TODAY with Hans van de Groenendaal ZS6AKV listen here or visit the Amateur Radio Today page with more details and download links here
---
GEOMAGNETIC UNREST: Earth is entering a stream of solar wind flowing from a hole in the sun's atmosphere. This is causing geomagnetic unrest around the poles. High-latitude sky watchers should be alert for auroras on July 21st, especially in the southern hemisphere where winter darkness favors visibility. Free: Aurora Alerts
CME SWEEPS ASIDE COSMIC RAYS: On July 16th, a CME hit Earth's magnetic field, sparking two days of geomagnetic storms and beautiful southernauroras. The solar storm cloud also swept aside some of the cosmic rays currently surrounding Earth. Spaceweather.com and the students of Earth to Sky Calculus launched a space weather balloon to the stratosphere hours after the CME arrived. We detected a 7% decrease in X-rays and gamma-rays (two tracers of secondary cosmic rays). Neutron monitors in the Arctic and Antarctic recorded similar decrements. For instance, these data from the Bartol Research Institute show a nearly 8% drop in cosmic ray neutrons reaching the South Pole: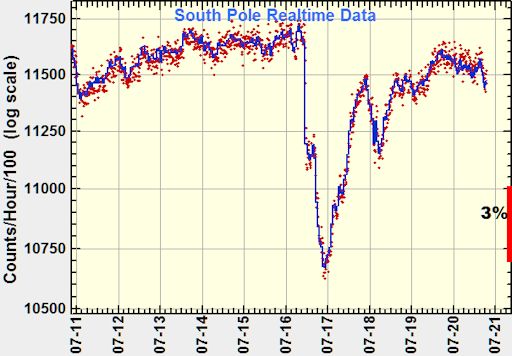 This is called a "Forbush Decrease," named after physicist Scott E. Forbush who first described it in the 20th century. Wherever CMEs go, cosmic rays are deflected by magnetic fields inside the solar storm clouds. As a result, when solar activity is high, cosmic radiation around Earth is relatively low--a yin-yang relationship that holds throughout all phases of the solar cycle.

Lately, cosmic rays around Earth have been intensifying as the solar cycle plunges toward minimum. The CME of July 16th reversed that trend--but only for a few days. Solar activity has returned to low levels and cosmic rays are on the rise again.
Why do we care about cosmic rays? For one thing, they penetrate commercial airlines, dosing passengers and flight crews so much that pilots are classified as occupational radiation workers. Some research shows that cosmic rays can seed clouds and trigger lightning, potentially altering weather and climate. Furthermore, there are studies ( #1, #2, #3, #4) linking cosmic rays with cardiac arrhythmias in the general population.
---
ICASA Licensing Matters - The SARL is aware of members who are having trouble in resolving their various licensing issues, especially in the case of a cancelled licence. The League is more than willing to assist members but could only do so if the following basic information in the case of cancelled licences is provided:
A copy of their communication/s with ICASA.
A copy of their latest licence.
A copy of the payment/s made subsequent to this latest licence.
A completed ICASA Application Form
A copy of their Identity Document
Proof of payment for the re-application fee.
Original RAE results or HAREC certificate
In the case where a member has paid for a multiple year licence (2 years to 5 years) and has only received a one-year licence, the following information must be provided:
A copy of their communication/s with ICASA.
A copy of the payment made for a multiple year licence.
Please forward your request for assistance, including all the documentation, to secretary@sarl.org.za. Use your call sign and licence number as a topic in the e-mail.
Please refer to the following document for comprehensive information pertaining to licensing at http://www.sarl.org.za/public/ICASA/ICASA_Docs.asp and select the document "ICASA Amateur Radio Licences General Information V2"
---
Interview with the IARU President - International Amateur Radio Union IARU) president Tim Ellam, VE6SH, talks with ARRL Media and Public Relations Manager Sean Kutzko, KX9X, at Hamvention 2017. Tim explains what the IARU is, how IARU's work affects every radio amateur in the world, and why hams should pay attention to the events within their own IARU member society. Watch ARRL Hamvention 2017: IARU President Tim Ellam, VE6SH https://youtu.be/LudvqBWxcE0
---
The 2017 IARU Region 1 General Conference - Papers for Committee 3 (Administration), Committee 4 (HF), Committee 5 (VHF/UHF) and Committee 7 (EMC) have been uploaded to the Landshut Conference page at http://www.iaru-r1.org/index.php/general-conference/landshut-2017
The papers are in zipped files ready for download. Also available on the Conference page are the Nominations for the Executive Committee as received by the Region 1 Secretary on 17 June 2017.
---
SARL Fund for Disaster Victims
I am pleased to announce that Council have decided, on short notice, to establish an independent General Disaster Trust Fund to assist fellow radio amateurs who have suffered because of natural disasters. In a nutshell, this general disaster fund will be administered by independent trustees and not by Council.
The trustees in no specific order are Gary Immelman, ZS6YI, Louw Erasmus, ZS6LME, Cliff Smyth, ZS6BOX, and Rassie Erasmus, ZS1YT.
Trustees will have absolute discretion how funds for the current and for future major relief situations are to be utilised.
This is an open and honest initiative from Council to establish a fund for the current and for future major relief situations to assist in extra ordinary circumstances and not ordinary charity circumstances.
Contribution can be paid into: Erasmus Incorporated Trust Account ABSA Bank, Account no 4049478830
Please use your callsign as reference or should you prefer to contribute anonymously use the word "Disaster Fund" as reference"
The thread "SARL Fund for Disaster Victims" on the Forum will be used for reporting progress, acknowledge payments and for announcements. Please note that no general chatter will be allowed, especially negative remarks or criticism of any kind.
Many thanks for your generous support and understanding with this initiative.
73, Nico, ZS6QL, SARL President
---
PAY YOUR AMATEUR RADIO LICENCE NOW - Your 2017/2018 licence was payable on 1 April 2017. The fee is R134.00. The fee is for 5 years is R559.00. Advise Dewald at DKuhrau@icasa.org.za of your payment for a five year license.
ICASA is not oblighed to send out invoices. For full details on licenecs and payment click here
---
NVIS PROPAGATION - UNDERSTAND THE BASICS - Radio Communication via Near Vertical Incidence Skywave propagation can be used for communication over a wide area. It is very well suited for emergency communication. It uses frequencies between 3 and 10 MHz with amateur allocation in the 5 MHz particularly attractive. Two propagation researchers, Ben Witvliet and Rosa Ma Alsina-Pages wrote an interesting paper with lots of reference to other papers for additional reading.
You can download it here
---
4 Bursaries available for under 26 to study for class A - If you are under 26 and planning to study for the Class A amateur radio examination there are bursaries available.. For more detail and application forms click here.
---
RSGB HANDBOOK NOW AVAILABLE IN SA- The new RSGB Radio Communication Handbook is now avaiable in South Africa. Also available are the ARRL 2017 Handbook (hardcover version) and Low Band DXing. For a list of books locally stocked and a mailorder from click here. SARL Members get up to 10% discount .
---
Advertising in Radio ZS and the SARL Web site

Radio ZS and the SARL web welcomes advertising. It is a source of information for readers. To place an advertisement in Radio ZS, contact Dennis, ZS4BS, at radiozs@sarl.org.za. To advertise on the League web site, contact Hans, ZS6AKV at artoday@sarl.org.za
Advertising Rates
Display (cameo) on home page - R500 pm - R2 500 for 6 months - R4 500 per annum
Commercial Hamad on home page - R60 pm - R300 for 6 months - R500 per annum
Radio ZS Strip advertisement, 10 cm x 2 columns on top of the page - R100 pm - R500 for 6 months - R1 000 per annum
Display (cameo) on home page and Radio ZS Strip advertisement (as above) - R550 pm - R2 700 for 6 months - R4 900 per annum
Terms and conditions
All contract advertisements content may be changed monthly on 5 working day notice
The rates are based on the complete supply of material in Jpeg unless otherwise negotiated. For artwork additional charges may apply as agreed
The content of the advertisements must comply with regulations and norms acceptable in South Africa
All advertisements are playable in advance by EFT to SA Radio League, ABSA, account no 4071 588 849 branch code 632 005
All correspondence and material must be sent to admin@sarl.org.za with a copy to artoday@sarl.org.za
HF Update with Dennis, ZS4BS 22 July 2017
Get your weekly copy of HF Happenings at http://www.sarl.org.za/hf_happenings.asp
RAC 150 Award. To commemorate Canada's 150th anniversary since Confederation in 1867, Radio Amateurs of Canada presents the RAC 150 Award programme for contacting the special RAC stations between 1 July and 31 December 2017: VA2RAC (Quebec), VA3RAC (Ontario), VE1RAC (Nova Scotia), VE4RAC (Manitoba), VE5RAC (Saskatchewan), VE6RAC (Alberta), VE7RAC (British Columbia), VE8RAC (Northwest Territories), VE9RAC (New Brunswick), VO1RAC and VO2RAC (Newfoundland and Labrador), VY0RAC (Nunavut), VY1RAC (Yukon) and VY2RAC (Prince Edward Island). Complete information can be found at http://wp.rac.ca/rac150/.
Iceland, TF. Special station TF15MOOT will be active during the 15th World Scout Moot, which will take place in Iceland from 25 July to 2 August. QSL via TF3VD.
Somoa, 5W. Roly, ZL1BQD will be active as 5W0RR from Samoa (OC-097) from 26 July to 15 August. He will operate mainly JT65 and possibly the new FT8 mode. QSL via ZL1BQD.
Italy, I. Special callsign II2XC will be active until 31 December to celebrate the 90th anniversary of Associazione Radioamatori Italiani (ARI). QSL via the bureau.
Russia, UA. R17CWC and many "17CW" special call signs will be active from 22 July to 6 August during the Russian CW Club's Telegraph Marathon. Information on the award programme can be found on https://www.qrz.com/db/R17CWC.
Sweden, SM. SC40VIC celebrates the 40th birthday of Crown Princess Victoria and is active until 31 December. QSL via SM6JSM, direct or via the bureau.
As mentioned in the SARL News, the annual RSGB Islands on the Air Contest runs from 12:00 UTC on Saturday 29 July to 12:00 UTC on Sunday 30 July with phone and CW operation on 80 to 10 m. The exchange is a RS or RST report and a serial number starting from 1, plus an IOTA reference number if applicable. Find all the information at www.rsgbcc.org/hf/rules/2017/iota2017.shtml.
Looking at the various DX Bulletins, there will be a lot of activity from islands in the northern hemisphere. The winter conditions in South Africa are not favourable for visiting the few islands around our coast and I understand that to get to certain islands, there is a lot of red tape!
The International Lighthouse and Lightship weekend is coming up in August and to date South Africa has 11 lighthouses registered.
The Boland ARC are going to Cape Agulhas lighthouse, the Cape Town ARC are going to Green Point lighthouse and the Fish Bay Radio Club will be at Slangkop lighthouse. The Overberg ARC will be at Danger Point lighthouse.
In the Port Elizabeth area, Andrew, ZS2G, will be at Cape Recife Lighthouse, PEARS will be at the Seal Point lighthouse in Cape St Francis and the Hammies, ZS2ZU will be the Donkin reserve. The Great Fish lighthouse will be activated by ZS4BS.
In KZN, the Highway ARC will be at Green Point lighthouse (there are two Green Points), the Hibiscus Coast ARC will be at North Sand Bluff lighthouse and the Durban ARC will be at Cooper lighthouse.
Have a look at page 10 to 18 of the July Radio ZS to get information about all the lighthouses around the coast and get you club registered for ILLW.
---
CONTEST NEWS WITH ZS6C Updated 10 July 2017
DMC RTTY Contest: Start: Date: 12:00 UTC -Saturday 15 July 2017, End: 12:00 UTC -Sunday 16 July 2017. Bands: 80, 40, 20, 15, 10 meters. Exchange: Signal report + serial number, starting 001. http://digital-modes-club.org/index.php/en/dmc-rtty-contest
The 2017 CQ World-Wide VHF Contest: Date: Begins: 1800 UTC Saturday, July 15, 2017, Ends: 2100 UTC Sunday, July 16, 2017. Contest Period: 27 hours for all stations, all categories. Operate any portion of the contest period you wish. Objectives: are for amateurs around the world to contact as many amateurs as possible in the contest period, to promote VHF, to allow VHF operators the opportunity to experience the enhanced propagation available at this time of year. Bands: All amateur radio frequencies on 50 MHz (6 meters) and 144 MHz (2 meters) may be used as authorized by local law and license class. Exchange: Callsign and Maidenhead grid locator (4 characters, e.g., EM15). Signal reports are not required and should not be included in the log entry. http://www.cqww-vhf.com/rules.htm
SARL QRP Contest: Aim: The QRP contests are intended to be fun activities to promote QRP operation between radio amateurs. Using homebuilt equipment or operating as a portable/field station and using temporary antennas is encouraged, but is not a requirement. Dates and times: from 12:00 to 15:00 UTC Saturday 15 July 2017, General Info: Modes: SSB and CW, Power: 5 watts (PEP) output or less, A station may be worked once per band per mode. There are no antenna restrictions. Frequency: The first hour is limited to the 40 m band only, the remaining two hours the contest- ers are free to use any HF (non-WARC) band as they see fit. (See Blue Book for details)
ZS2 Sprint: Aim: This is a fun activity to promote contacts between radio amateurs in the Eastern Cape and radio amateurs in Southern African countries. Date and Time: 14:00 to 15:00 UTC Sunday 23 July 2017. Exchange: The exchange is RS(T) and provincial or country abbreviation. Frequency: It is a phone and CW contest on the 40-metre band CW: 7 000 to 7 040 kHz, SSB: 7063 to 7 100 and 7 130 to 7 200 kHz. (See Blue Book for details)
RSGB IOTA Contest: Objective: To promote contacts between stations in IOTA island groups and the rest of the world, and to encourage expeditions to IOTA islands. Date & Time: 29th - 30th July 2017 12:00 - 12:00 UTC. Frequencies and Modes: 3.5, 7, 14, 21 and 28 MHz CW and/or SSB. Exchange: World Stations send RS(T) and serial number starting from 1, Island Stations send RS(T) and serial number starting from 1, plus their IOTA Reference. If you are not sent a serial number, log a zero. http://www.rsgbcc.org/hf/rules/2017/riota.shtml