SARL TODAY!
BREAKING NEWS:
The December 2022 Radio ZS is available for download.
---
IARU Region 1 - December 2022 YOTA Month Activity
The entire month of December, several youngsters under the age of 26 will become active with YOTA suffixes in their call signs in Region 1. The idea behind this is to show the amateur radio hobby to youth and to encourage youngsters to be active on the amateur radio waves. The SARL has registered the special events call sign ZS9YOTA on the IARU R1 website as an educational callsign for use by clubs and individuals during this December. To reserve a slot to use the ZS9YOTA call sign on a daily basis or for information please contact Guy ZS6GUY via e-mail at guy.eales@se.com or alternatively Nico, ZS6QL at zs6ql@mweb.co.za
Looking forward to hear our younger generation active on the air working DX during this month!
---
SARL ON-THE-AIR BULLETINS AND AMATEUR RADIO TODAY PROGRAMME4 December 2022
SARL News with Herman Erasmus ZS6CTA listen or download here
SARL NUUS in Afrikaans met Christo de Witt ZS3CDW Luister/laai hier af
Amateur Radio Today - Pogramme about Amateur Radio and technology hosted by Hans van de Groenendaal, ZS6AKV . The programme features news about amateur radio, reports on Hamnet, VHF and UHF, Satellites and HF plus teachnical features. One hour of Amateur Radio bliss. Listen or download here Today programme is 63 minutes long.

Transmissions: Sundays at 08:00 UTC on repeaters around South Africa including 145,750 and 145,725 MHZ in Pretoria. On HF 7 082 kHz by Louis, ZS5LP. Amateur Radio Today on 80 metres on Mondays - On Mondays Amateur RadioToday is transmitted at 19:30 local time on 3 620 kHz by Andy, ZS6ADY.

Note when SARL website is not available programmes will be posted on www.amateurradio.org.za. Reception reports are invited. Please send your report to artoday@sarl.org.za. Please give details of the signal strength antenna and location.

Text bulletins from 1 March 2020 to today can be found at https://sarlnewsbulletin.wordpress.com
---
A Template - Constitution and Rules for an Amateur Radio Club - get a copy here
---
Proposed Next Generation Radio Frequency Spectrum Policy - The Minister of Communication and Digital Services recently published the draft next generation frequency policy and has invited comments. The SARL has filed comment. A copy is available here.
---
Ethics and Operating Procedure for the Radio Amateur EN IARU ed3 2 Jan 2009 - download your copy here. Ongelukkig is dit nog nie na Afrikaans vertaal nie.
---
SARL Taking Amateur Radio into the Digital AGE - Presentations made at the annual SARL symposium will be available on YouTube.
Keynote address : Why Radio Amateurs should care about encryption by Dominic White ZS6HAK, CEO of Orange Cyberdefense. View here
SDR Applications for Amateur Radio
Presented by Sylvain Azarian F4GKR President IARU-R1
View here
Next Generation Beacon- update by Brian Jacobs ZS6YZ View here
---
South African VHF, UHF and Microwave Record Table. The latest table of records is available from the VHF SA Record page. Compiled and updated by Paul, ZS6NK - send your record claim to zssixnk@gmail.com
---
SARL Next Generation Beacon fund stands at R30 150 - The crowd funding initiative to collect funds for the SARL next generation beacon programme was initiated by AMSAT SA. During the past week R2000 was received from two donors. The fund moved f past the half way mark which is still far short of the R60 000 target required to finance a beacon in the Karoo and the Western Cape.
AMSAT SA and the SARL thank all who have thus far contributed. Help us make it happen by making your donation to the fund. Visit www.amsatsa.org.za and make your contribution by clicking on one of the payment buttons for a R50, R250 or R1000 donation. The button will take you to the Payfast website where you need to enter your credit card details. Please also add your callsign after your surname.
---
The IARUMS Region 1 Newsletters are available on iaru-r1.org and read it!
---
New Satellite Book now available - The new ARRL Amateur radio satellites for beginners is now available in South Africa. With the opening of e-commerce, Postnet is operating again and books can be sent to your nearest Postnet. You can make contacts through amateur radio satellites, and even with the International Space Station, using equipment you probably own right now! All it takes is the right information, which you will find in Amateur Radio Satellites for Beginners by Steve Ford
There are dozens of spacecraft in orbit just waiting for your signals, and more are being launched every year. This book is your guide to a whole new world of operating enjoyment.
Amateur Radio Satellites for Beginners will introduce you to new experiences that you may have thought were out of your reach. Start reading and discover how easy it can be! To order the book visit www.amateurradio.org.za. 115 pages plus index.
---
Guidelines for a non SARL member to use the SA-QSL system- Phone Kelley at NARC (011 675 2393) and check that your correct information is on the database – license number and e-mail address are important.
Click on SA-QSL system link (on the left-hand side of the web page) and then click on "Need to Register". Follow the instructions on the screen. Your username and password will be e-mailed to you which you can use to logon in future.
SARL and not yet SARL Members are requested to check their Electronic QSLs on a regular basis.
---
2022 Advertising in Radio ZS and the SARL Web site
Radio ZS and the SARL web welcomes advertising. It is a source of information for readers. Send your advertisement for the League website to Hans, ZS6AKV at artoday@sarl.org.za and for Radio ZS to Dennis, ZS4BS at radiozs@sarl.org.za.
Advertising Rates (effective 1 January 2022) Display (cameo) on home page and Radio ZS Strip advertisement - R600 pm - R3 000 for 6 months - R5 000 per annum
Commercial Hamad on home page - R100 pm - R400 for 6 months - R900 per annum
Terms and conditions
All contract advertisements content may be changed monthly on 5 working day notice
The rates are based on the complete supply of material in Jpeg unless otherwise negotiated. For artwork additional charges may apply as agreed. A design service is available at R400 per advertisement.
The content of the advertisements must comply with regulations and norms acceptable in South Africa
All advertisements are playable in advance by EFT to SA Radio League, ABSA, account no 4071 588 849 branch code 632 005
All correspondence and material must be sent to admin@sarl.org.za with a copy to artoday@sarl.org.za

HF Update with Dennis, ZS4BS - 3 December 2022
Niger, 5U. Giorgio, IU5HWS has been back to Niamey, Niger for a few days and expects to remain there until 20 December. In his spare time, he is active as 5UA99WS on 80 to 10 metres SSB. QSL via EA5GL and LoTW.
The Gambia, C5. Andre, ON7YK has been back to Bijilo, Gambia since 28 November and will remain there until 24 February. In his spare time, he is active as C5YK on 20, 17, 15, 12 and 10 metres SSB, CW and digital modes. QSL via eQSL, LoTW (updated on a monthly basis), or direct to home call; log search on http://www.on7yk.eu/h-logbook.php.
Burkina Faso, XT. Harald, DF2WO will be active again as XT2AW from Burkina Faso between 4 and 17 December. He will operate CW, SSB and MGM on all bands, with plans to be active also on QO-100. QSL via M0OXO's OQRS.
Willis Island, VK9W. Sands, VK4WXW has been on Willis Island (OC-007) since October and will remain there until the end of April 2023. He works at the Australian Bureau of Meteorology's weather monitoring station on the island and in his spare time he is active as VK9WX.

Laos, XW. Vincent, F4BKV will be active as XW4KV from Laos between 2 and 23 December. Main activity will be on QO-100 from as many as 12 grids (details on https://f4bkv.net/xw4kv.html), with some activity on 40, 20, 15 and 10 metres planned for 13 to 18 December. QSL via F4BKV and LoTW.
Bangladesh, S2. Barring any setbacks, Team S21DX will be active from Dhal Char Island (AS-140) between 10 and 16 December. Plans are for eight operators (S21AM, S21BK, S21D, S21IT, S21MK, S21OM, S21RC and S21TG) to be active with two SSB stations and one station for QO-100 satellite (SSB). QSL direct to EB7DX; all QSOs will be uploaded to LoTW and Club Log. See https://s21dx.org/ and https://www.facebook.com/s21dx for information and updates.
Maldives, 8Q. Vadim, R6CA will be active as 8Q7CA from the Maldives (AS-013) between 13 and 22 December. He will operate CW, SSB and MGM on 80 to 10 metres. QSL via LoTW, Club Log's OQRS, or via home call.
Romania, YO. YR1400VT is the special call signs that members of Radio Club YO6KGS will be using until 30 June 2023 to popularize the newly inaugurated Via Transilvanica, a long-distance trail (1 400 km) used for hiking, cycling and horse riding that crosses Romania. More information can be found on https://www.qrz.com/db/YR1400VT. QSL via eQSL.
France, F. The Radioamateurs du Val d'Oise (F4KKT) will operate special call sign TM6DEO between 9 and 21 December in memory of their friend Marcel Chaillou, F6DEO, who passed away on 21 December 2021. QSL via the bureau.
Belgium, ON. UBA Section Bruxelles-Est (ON5UB) will be active as OR78NUTS between 9 and 11 December to commemorate the 78th anniversary of the Battle of the Bulge during World War II. The suffix of the special call sign is General Anthony C. McAuliffe's famous single word reply in response to a surrender ultimatum. QSL via ON5UB.
The Netherlands, PA. Celebrating Christmas and the New Year, special call signs PH22XMAS will be active between 6 and 28 December, while PH23HNY will be active from 28 December to 31 January. QSL cards will not be available.
Spain, EA. Special call sign EE44CE will be active between 3 and 18 December to commemorate the 44th anniversary of the promulgation of the Spanish Constitution of 1978, which marked the culmination of the transition of Spain to democracy. QSL via LoTW, eQSL, or direct to EC5WR.
Argentine, LU. Hernan, LU1COP will be active as LP1A/E from Isla Martin Garcia (SA-055) between 8 and 11 December. He will operate SSB and MGM on 80 – 10 m. QSL via LoTW, or via EA7FTR.
---
The SAMOC
Welcome to The Southern African Morse Operators Club!
https://samoc.co.za/
CW Operators' Club Accepting Nominations for Advancing the Art of CW Award
The CW Operators' Club (CWops) is now accepting nominations for the 2023 Advancing the Art of CW Award. This award recognizes individuals, groups, or organizations that have made the greatest contribution(s) toward advancing the art or practice of radio communications by Morse code.
Award candidates must be one or more of the following: authors of publications related to CW; CW recruiters, trainers, mentors, coaches, or instructors; public advocates of CW; organizers of CW activities; designers and inventors who advance the art or practice of CW, and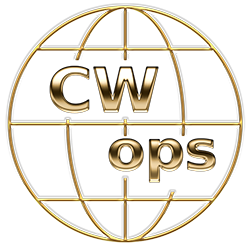 other contributors to the art or practice of CW.
The award is not limited to amateur radio operators or their organizations, and nominations may be made by anyone, not just CWops members.
Nominations must be emailed to awards@cwops.org and secretary@cwops.org by March 10, 2023. Those submitting nominations will receive an email confirmation acknowledging receipt. Nominations must include: a detailed explanation supporting nominee qualifications according to the above criteria; nominee(s) name(s), call sign(s) if applicable, and contact information, including their postal address(es), email address(es), and telephone number(s); as well as the name, telephone number, email address, and call sign (if applicable) of the person submitting the nomination(s).
The winners will be announced and presented with a plaque at Dayton Hamvention® 2023. If a recipient is not present, their plaque will be sent to them.
Information about past recipients, dating back to 2016, can be found at https://cwops.org/cwops-award-winners. For more information about the award criteria, visit https://cwops.org/the-cwops-award-for-advancing-the-art-of-cw.
Commercial Hamads
ZS2BL's S.A. HAMSHACK
Direct importer of a wide selection of SWR meters, H.F., V.H.F. and U.H.F. base and mobile antennas. Amateur radio transceivers, antenna analyzers, etc. Affordable shipping costs for out of town customers and subsidized shipping to SARL members.Check out all my amateur radio goodies here. 0720268909.
---
Just Curious Designs
Promotional Branding & Gifts for all your requirements relating to:
*T-Shirts * Cards * Caps *Mugs *Banners *Etching *Canvas
Visit our website and online shop for more information on our wide range of products at www.curiousdesigns.co.za or email us sales@curiousdesigns.co.za
Johan ZR6JC – 082 821 5759
---
Place your commercial hamads on the home page. Book a six months space for R300 or 12 months at R500 prepaid with order The advertisements will be text only up to 60 words including address, telephone number and click through URL to advertisers' website and email address. Adverisement can be changed Send your contact details to admin@sarl.org.za and we will contact you or call the NARC at 011 675 2393
---
What is Amateur Radio ?
Tell me more about Amateur Radio
Radio Amateurs, or "Hams" use two-way radio communication to make contact with other radio amateurs all over the world. They are even able to use satellites and on occasion speak with astronauts. Radio Hams can do this from
home or while mobile in cars, boats or on foot.

Radio Hams have a full range or communication modes at their disposal. These include plain voice, Morse code, numerous digital computer modes and even graphical modes like television. As a licensed amateur radio operator you will be able to join in experiments using all these modes.

Amateur radio can be enjoyed by young and old, male and female, even the most severely disabled can make friends around the world from their own home. This hobby knows no boundaries.
---
Random Photo from the Call book.
---