SARL TODAY!
Amateur Radio Today and SARL NEWS. Listen to these programmes on line or download to retransmit on local nets, a SARL service to Radio Amateurs. Get the transmission schedule here .
Sunday 22 July 2018
AMATEUR RADIO TODAY with Hans van de Groenendaal ZS6AKV Download/Listen . More details about Today's programme here
Listen to a clip from QSO Today with Mike Mussler AI8Z talking about his 630 metre experience . If you are experimenting on 630 m, send us your details - artoday@sarl.org.za
---
GEOMAGNETIC STORM PREDICTED: NOAA forecasters say there is a 65% chance of minor G1-class geomagnetic storms on 24 July when a high-speed stream of solar wind is expected to hit Earth's magnetic field. The gaseous material is flowing from a large hole in the sun's atmosphere, shown here in an extreme ultraviolet image from NASA's Solar Dynamics Observatory: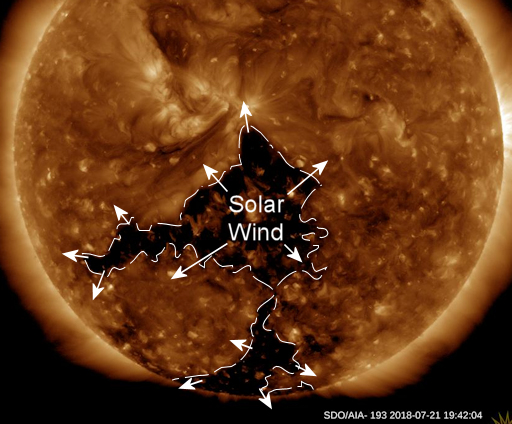 This is a "coronal hole," a vast region in the sun's atmosphere where magnetic fields open up and allow solar wind to escape. They look dark in ultraviolet images because the hot glowing plasma normally contained there is missing. In this case, the plasma is making a beeline for Earth.
How can we have a geomagnetic storm during solar minimum? It happens all the time. Sunspots, whose counts define the solar cycle, are not the only source of storms. When sunspots vanish, coronal holes replace them as a primary source of solar activity. Studies show that coronal holes not only open more frequently, but also last longer when sunspots are absent. During the last solar minimum in 2007-2009, one coronal hole stayed open for 27 consecutive solar rotations. As the sun slowly turned on its axis, that hole fire-hosed Earth with a stream of solar wind almost once a month for nearly two years. Explosive sunspots make stronger storms than the relatively gentle breezes that emerge from coronal holes, but geomagnetic storms never go away, not even during solar minimum.
---
Robben Island - A group of 6 operators from South Africa will once again activate Robben Island, in the Western Cape Province South West Group, as ZS9V from 17 to 20 August including the Lighthouse Weekend (ZA0008). Robben Island is ZSFF-0322 for the Fauna and Flora programme and AF-064 for the Islands on the Air programme.
Operators mentioned are Jan, ZS1VDV, Andre, ZS1AN, Johan, ZS1A, Allan ZS1LS, Oleg ZS1OIN and Oleg, ZS1ANF. Activity will be on 80 to 10 meters using CW, SSB and possible the digital modes. QSL via M0OXO or OQRS. For more details, see http://zs9v.org.za
---
FOCUS ON VHF HAS A NEW EMAIL ADDRESS: Share your VHF activity and news with Focuson VHF and above. Brian Jacobs,ZS6YZ welcomes your input on Please send your news snippets and information about activities on VHF and Above to vhfnews@sarl.org.za. Send a photograph of your radio room, and antennas.
---
LOW SUNSPOTS TRY 16O M, you cannot be without this book - ON4UN's Low Band DXing - Dozens of new propagation maps based on DX Atlas, as well as an in-depth analysis of the influence of sunspot cycles on 160-metre ducting. A new discussion of cutting edge technology including Software Defined Radio and the revolutionary LP-500 Digital Station Monitor. Chapters include
Propagation
DXing on the Low Bands
Receiving and Transmitting Equipment
Antenna Design Software
Antennas: General, Terms, Definitions
The Feed Line and the Antenna
Receiving Antennas
The Dipole Antenna
Vertical Antennas
Large Loop Antennas
Phased Arrays
Other Arrays
Yagis and Quads
Low Band DXing from a Small Garden
From Low Band DXing to Contesting
CD-ROM included! The CD-ROM includes the entire book in a fully searchable PDF format as well as ON4UN's software (Windows XP only), antenna modeling files, photographs and more.
Now R950. Delivery via Postnet R120. Total special package R960 including Postnet. Purchase supports YOTA2018. Get orderform here
---
YOTA 2018 NEEDS SPONSORS FOR DONGLE CONNECTION CABLES - The Amateur Radio Development Trust will be sponsoring VHF/UHF dongles for the 80 young people taking part in YOTA 2018 to be hosted in South Africa from 8 - 15 August 2018.

Funding is however required for the connecting cable bet ween the dongle and antenna. The cost for 70cables is approxtimate R6000 The dongle will be used to introduce the young people into the world of Software Defined Radio and be part of their near-space BACAR experience. If you or your company can assist, make a contribution. Your help will contribute to making YOTA 2018 a success and the best ever.
Funds for 6 Cables have thus far been donated. AMSAT SA will handle the fundtaising for the cables. Bank details ABSA 40 8982 6281 Branch code 632 005. A list of donors will be published on www.amsatsa.org.za
---
AMSAT SA Space Symposium papers - A number of papers are now availble for download. View here 1080
---
RSGB YOTA TEAM HANDS OVER FLAG TO SA - The official handover from the RSGB YOTA Team to the SARL YOTA Team took place on Friday afternoon, 1 June 2018, in Friedrichshafen. The SARL Team received the YOTA flag as well as the symbolic Begali YOTA morse key. The SARL Team showed a video as background and introduction to the YOTA 2018 event in August in South Africa. Two months to go!
L-R Nico van Rensburg ZS6QL, Florian OE3FTA, Mike 2E0MLJ, Koos ZR6KF and Lisa PA2LS.
---
5 MHz Allocation world-wide in PDF 60 Metre Allocations World-wide
---
UPDATE YOUR AMATEUR LIBRARY - For the next two weeks the SAARDT Online Bookshop offers an additional 10% discount on ARRL Books. The SA Amateur Radio Development Trust is supporting YOTA 2018 and will use funds from book sales to sponsor SDR dongles for participants. There is still one 2018 ARRL Hanbook in stock. Two 2017 ARRL Handbooks are available at only R600. Other books of interest are Satellite Handbook, ARRLAntenna Handbook (23rd ed), Basic Antennas, Simple and Fun Antennas and Radio Science for the Amateur. Visit www.amateurradio.org.za for the complete list and orderform or click here
---
The latest VHF, UHF and Microwave Record Table is available from the VHF SA Record page. Click here to get a copy.
Compiled by Mike Bosch, ZS2FM (SK) and updated by Paul, ZS6NK 25 May 2018. Updates to zssixnk@gmail.com
---
Young South African Radio Amateurs invited to apply for YOTA 2018 - South Africa will host 80 young Radio Amateurs from 34 countries in Europe, Africa and parts of the Middle East, for a week-long international event from 8 – 15 August 2018. This is the first time that YOTA (Youngsters–on–the–Air Summer Event) is presented in South Africa and hosted by the South African Radio League (SARL).



Applications are now invited for the South African Team and anyone aged between 16 and 25 is invited to apply for selection as a team member and participate in this amazing amateur radio event.

"This annual event creates, in addition to amateur radio, the opportunity to learn about different nationalities and cultures, foster international friendships and goodwill as well as learning new radio communication and technical skills", says SARL president, Nico van Rensburg. YOTA brings together young radio amateurs under the age of 26 who have a passion for amateur radio and technology to learn new skills, discuss and share ideas about amateur radio and its future. This year's camp will not just focus on teaching individual skills but look at empowering the group to become mentors and transfer the skills they have learned.

The week long programme includes building a radio transceiver kit, becoming involved in launching and tracking of a high altitude balloon with various radio equipment on-board, hone their communication skills using multi frequency amateur radio stations and other technology and communications based activities.

To be considered for selection in the South African team visit www.zs9yota.co.za, complete the online application in full and submit before 30 May 2018. The SARL YOTA Team Selection Committee will notify successful applicants by 17 June 2018. Full details about the 2018 event can be found on www.zs9yota.co.za. For additional information contact the team at info@zs9yota.co.za.

Radio Amateurs and companies can become involved in YOTA 2018 by financially contributing. For banking and PayPal details visit www.zs9yota.co.za. Support the future of amateur radio.
---
ARRL HANDBOOK - only 2 copies of the 2017 edition are available. The 2018 is no longer available. For details visit www.amateurradio.org.za
---
Amateur Radio License fee increase
ICASA has informed the SARL that the licence fee will be increased by 5.3% on 1 April 2018. The new fees will be
1 Year - R 141.00
2 Year - R 269.00
3 Year - R 386.00
4 Year - R 492.00
5 Year - R 588.00
ICASA will start the invoicing process for the 2018/2019 period from 5 February 2018. Radio Amateurs are reminded that it is their responsibility to ensure their license is up to date. If for some reason no invoice is received, check that ICASA has been informed of any address changes.
Avoid the hassles of having to renew each year, opt for a multi-year licence. Simply, when renewing pay the appropriate amount. On the EFT state 5 Year licence and your callsign. Also send an email to dkuhrau@icasa.org.za with a copy of the EFT payment.
ICASA Licence Fees - DO NOT pay the ICASA licence fee into the SARL bank account, all moneys wrongfully paid into the SARL account will be refunded less the bank charges associated with these transactions.
The correct account for your ICASA Licence Fee is NEDBANK Account number: 14 62 00 29 27, Branch Code: 146245 - Corporate Client Services – Pretoria and in the reference field type in your licence number and callsign.
---
2018 Advertising in Radio ZS and the SARL Web site
Radio ZS and the SARL web welcomes advertising. It is a source of information for readers. To place an advertisement in Radio ZS, contact Dennis, ZS4BS, at radiozs@sarl.org.za. To advertise on the League web site, contact Hans, ZS6AKV at artoday@sarl.org.za
Advertising Rates
Display (cameo) on home page and Radio ZS Strip advertisement (10 cm by 2 columns) - R500 pm - R2 500 for 6 months - R4 500 per annum
Commercial Hamad on home page - R60 pm - R300 for 6 months - R500 per annum
Terms and conditions
All contract advertisements content may be changed monthly on 5 working day notice
The rates are based on the complete supply of material in Jpeg unless otherwise negotiated. For artwork additional charges may apply as agreed
The content of the advertisements must comply with regulations and norms acceptable in South Africa
All advertisements are playable in advance by EFT to SA Radio League, ABSA, account no 4071 588 849 branch code 632 005
All correspondence and material must be sent to admin@sarl.org.za with a copy to artoday@sarl.org.za
HF Update with Dennis, ZS4BS - 14 July 2018
Get your weekly copy of HF Happenings at www.sarl.org.za/hf_happenings.asp
Botswana, A2 (Postponed). Andre, NJ0F, who was expected to be active as A25A from Lotsane Lodge, Tuli Block, between 13 and 20 July, has postponed his operation. No reason was provided.
Portugal, CT7. Special event station CR5F will be active between 16 and 22 July for the 37th International Motorcycle Rally in Faro, Portugal. Expect activity on 80 to 6 metres SSB, CW, RTTY and FT8. QSL via CT1EHX.
Svalbard, JW. SP3FGI and others will be active as JW100PUT from Spitsbergen (EU-026), Svalbard between 18 and 31 July. The special call sign celebrates the 100th anniversary of the Amateur Radio Club (SP3PET) of the Poznan University of Technology. They will be active on 80, 40, 20 and 2 metres and 70 cm using SSB and FM. QSL via the bureau or direct to SP3PET.
Kingdom of Eswatini, 3DA0. Pista, HA5AO will arrive in eSwatini or Swaziland late afternoon on 14 September. He plans to operate during his free time between 16 and 28 September from the Mountain Inn Resort at Mbabane. He received the 3DA0AO license and a LotW certificate. Pista will operate 80 to 10 metress using a Hustler 6 BTV vertical antenna with 17 and 12 metre add-on elements using CW, RTTY and FT8. He is bringing an Elecraft K3 with the KPA 500 amplifier. Log search will be available on www.ha5ao.com. His plans include testing a new feature of the PDXG QSL Management Platform, the uploading of QSOs in real time.
While in-country he will travel to rural areas visiting villages, schools and orphanages to deliver school supplies to orphaned children. He is interested in making a long term donation agreement to pay school fees for several orphaned children. Pista is paying all expenses from personal funds. However, he would appreciate donations through his website. Any donations received will be used only for humanitarian purposes. You may see Pista's previous humanitarian projects at www.ha5ao.com
France, F. Special event call TM40CDXC will be active between 8 and 22 September for the 40th Convention of the Clipperton DX Club, to be held at Troyes (Aube) on 21 to 23 September (http://wp.cdxc.org/2018-troyes/). All QSOs will be confirmed automatically via the bureau.
Mayotte, TO6. Members of the Czech DXpedition team (CDXP) will be active as TO6OK from Mayotte (AF-027) between 20 September and 6 October. Operators mentioned are Petr, OK1BOA, Petr, OK1FCJ, Pavel, OK1GK, Ruda, OK2ZA, Ludek, OK2ZC, Karel, OK2ZI and David, OK6DJ. Activity will be on 160 to 10 meters using CW, SSB, RTTY and FT8. Focus will be on the low bands. QSL via OK6DJ, OQRS or LoTW. For more details and updates, see www.cdxp.cz
Rwanda, 9X. The Italian DXpedition Team, who will be active from Rwanda between 26 September and 10 October has added a second callsign. They will use 9X0Y exclusively on FT8 DXpedition mode (7 056, 10 131, 14 090, 18 095, 21 091, 24 911 and 28 091 kHz), and 9X0T everywhere else. See www.i2ysb.com/idt/ for detailed instructions.
---
VHF+ UHF+ MICROWAVE NEWS - FOCUS ON VHF with ZS6YZ 22 JULY 2018
# Link to SARL VHF, UHF & MICROWAVES DX TABLE Click here
Focus on VHF and Above 22 July 2018
This week we are going to look at how to get started with FM satellites.
There are many active satellites orbiting the earth. You can go to the AMSAT website and look at the status of the satellites as well as recent reports of which satellites have been heard. On this same website you can also find more information about the particular satellite that you are interested in. For example, whether the satellite requires any CTCSS tones that need to be used in order to activate the transponder and to talk through the satellite.
First you need to find out which satellites will be passing over your location and when. There are free software programs like Gpredict which you can install on your computer and once set up you will be able to select which satellites you want predictions for. It will be preferable if you have an internet connection over which you can download the updates of the Keplerian Elements. Alternatively you can enter your location on the AMSAT website and get a prediction of when the satellite you are interested in will be overhead.
Now that you know when the satellite that you want to use will be passing overhead, you can start getting ready to see if you can receive it. You can make a successful satellite contact using a dual band hand-held radio with an antenna other than the rubber duck antenna normally supplied with the radio.
It would be useful if you are familiar with you radio and know how to program split frequencies into your radio's memory. Let us take a satellite like SO-50 as an example. The normal V/U voice mode for this satellite is a VHF uplink frequency of 145.850 MHz and a UHF downlink frequency of 436.795 MHz. The uplink frequency is the one that you will transmit on and the downlink frequency is the one that you will be receiving on.
The satellites transmit with low power, typical as in the case of SO-50 it is in the region of 250 mW. You therefore need to disable the squelch on your radio to be able to hear these weak, but readable signals.
You then need an antenna that is better than the rubber duck antenna that you received with your radio. Here there are a number of options available to you. A telescopic whip antenna is a good start. You can even look at a homebrew Arrow style antenna. Just search for "homebrew arrow antenna" in your favourite web browser and you will find a number of links. Two good links to start with is the antennas by G6LVB and VE2ZAZ. The Arrow style antennas are dual band handheld yagi antennas and will be a great improvement over a whip or rubber duck antenna.
Next you need to set up your radio to be able to tune for the Doppler effect.
You need to start listening to the satellite 10 kHz above the centre frequency. This will allow you to hear the satellite sooner and clearer. As the satellite passes overhead you will hear that the downlink signal will start to get scratchy and then you need to tune down in 5 kHz steps to improve your reception. You need to keep tuning down in frequency as the satellite passes ending up around 10 kHz below the centre frequency at the end of the pass.
If you are using a whip antenna, then you must not hold your antenna upright. If you are facing the direction in which the satellite will appear then you will get better results if you tilt your radio and antenna down towards the ground so that your antenna is more or less perpendicular to the satellite. Should you have your back to the approaching satellite then your antenna needs to be tilted upwards at about 45 degrees, again so that your antenna is perpendicular to the approaching satellite.
If you are using an Arrow style antenna, then you will need to point it at the approaching satellite and track the satellite as it passes overhead to maintain a good received signal.
At this stage it would be a good idea to first practise tracking and tuning for the Doppler effect before attempting to transmit. You should also familiarise yourself with the quick voice procedures used when making contacts via the satellites. Satellite passes only last 7 - 15 minutes so there is no time for rag chewing.
You can also program successive memory channels on your radio with the required frequencies and the changing receive frequencies to account for the Doppler effect. This will make it simpler to tune your radio. You now just need to keep pressing the memory up or down button to keep you radio tuned to the satellites changing frequency.
Right, now you have everything set-up and you have practised tracking the satellite and tuning for the Doppler effect and you are ready to make your first contact.
Remember, if you cannot hear the satellite, then do not transmit. When you hear the satellite and there is a QSO in progress wait for a break and then announce your call sign and grid locator using the international phonetic alphabet.
On FM satellites it is not necessary to call CQ. You exchange call signs and grid locators when there are many stations on a pass. If there are few stations trying to work the satellite, then you can exchange more information like name, city and province.
Let us now look at some news about VHF and Above bands...
From the SARL forums we see that Mike, ZS1TAF is up and running on VHF SSB and will shortly have digital modes running as well. Mike has the following setup 6m – 100W into a 4 element Yagi, 2m – 90W into a 6 element horizontal Yagi and 70cm – 20W into an 11 element horizontal Yagi. All antennas are around 9m above ground level. Dick, ZS6BUN has already indicated that he would like to test 6m Meteor Scatter with Mike once Mike has his digital modes up and running.
Peter, ZS2ABF reports the following "Dave and I called again last Monday night on Sked but, No,No,No.
Nothing heard, even via Morse Code. We both gave several calls between 17:40 to 20:20, and nothing was heard, not even a whisper.
The rest of the week does not look encouraging, but on the bright side, it makes long distance contacts all the more exiting, and rewarding when you do make contact.
Therefore, keep your Sunnyside Up, and keep trying. You Snooze, You Loose."
That was Peter, ZS2ABF from East London.
Well that is all the VHF and Above news for this week. Let us hope that activity will pick up as the spring approaches.
Please send your news snippets and information about activities on VHF and Above including information for the tutorial to vhfnews@sarl.org.za.
---
CONTEST NEWS WITH ZS6C Updated 3 May 2018
Antique Wireless Association Valve QSO Party: Aim: The aim of the AWA Valve QSO party is to create activity on the 40 and 80 metre bands. It is a phone only contest using AM and SSB. Preferably, valve radios or radios with valves in them may be used. No linear amplifiers may be used. Date and Time: AM QSO Party- 13:00 to 17:00 UTC Saturday 5. SSB QSO Party: 13:00 to 17:00 UTC Sunday 6 May. Frequencies: 40 metres: 7 063 to 7 100 kHz and 7 130 to 7 200 kHz, 80 metres: Exchange: Call sign, RS report, a consecutive serial numbers starting at 001 and the type of radio used, e.g. HT37 TX. See Blue Book for more details
ARI International DX Contest: Aim: It is a world-wide competition: everybody can work everybody.
Dates and time: The contest will be held on the first full weekend of May 5-6 starting at 12.00pm Saturday and ending at 1159Z Sunday. Bands: Bands from 10m through 80m, except WARC bands. Exchange: Italian stations will send RST and two letters to identify their province. Other stations will send RST and a serial number from 001. See http://www.ari.it/index.php?option=com_content&view=article&id=5167%3Aari-international-dx-contest-2018&catid=250%3Aari-international&Itemid=270&lang=it
VOLTA RTTY DX CONTEST: TEST PERIOD: 12:00 GMT Saturday May 12, 2018 until 12:00 GMT Sunday May 13. BANDS: 3,5 - 7 - 14 -21 - 28 MHz Amateur bands. MESSAGE: Must consist of: RST - QSO progressive number starting from 001 - Your CQ Zone number. (es.: 599-001-15). See http://www.contestvolta.com/rules.pdf
UN DX CONTEST: Aim: UN DX CONTEST is organized and held by the national amateur radio society The Kazakhstan Federation of Radiosport and Radioamateur (KFRR). Contest period: 06.00 UTC 19 May 2018 – 21.00 UTC 19 May 2018. Bands: 80m, 40m, 20m, 15m, 10m (according to the IARU band plan for HF contests). Modes: CW and SSB. Exchange: Kazakhstan stations send RS(T) report plus KDA award district code. Non-Kazakhstan stations should send RS(T) report plus progressive serial number, starting with 001 for the first contact. See http://undxc.kz/bez-rubriki/2015-2/
AEGEAN RTTY CONTEST: Date: 3rd full weekend of May, from 12:00 UTC Saturday till 12:00 UTC Sunday 19 and 20 May. Mode: RTTY BAUDOT. Bands: 10, 15, 20, 40 and 80 meters, according to the IARU Region 1 band plan. Exchange: RST + QSO number starting with 001. See http://www.aegeandxgroup.gr/dx-pdf/AEGEAN%20RTTY%20CONTEST%20RULES.pdf
European PSK DX Contest: Date and Time: 12:00 UTC 19.05.2018 - 12:00 UTC 20.05.2018. Bands: 80 meters (3.580 – 3.590 MHz), 40 meters (7.040 – 7.050 MHz), 20 meters (14.070 –14.080 MHz), 15 meters (21.070 – 21.080 MHz), and 10 meters (28.070 – 28.080 MHz). Exchange: All EU stations should send signal report plus EU Area Code. DX stations should send signal report plus QSO number, starting 001. See http://www.eupsk.com/eupskdx/eupskdxrules.pdf
His Majesty The King of Spain CW Contest: Dates: 1200 UTC Saturday till 1159 UTC Sunday (May 19-20, 2018). Bands: 10, 15, 20, 40, 80 and 160 meters, in the segments recommended by the IARU for this mode. Exchange: Spanish stations send RST and the Province abbreviation and Special station His Majesty The King of Spain (EA0) will pass the abbreviation (SMR). DX stations send RST and serial number starting with 001. See https://concursos.ure.es/en/s-m-el-rey-de-espana-cw/bases/
CQ World-Wide WPX Contest: Starts: 0000 UTC Saturday Ends: 2359 UTC Sunday May 26-27. Objective: For amateurs world wide to contact as many amateurs and prefixes as possible during the contest period. Period of Operation: 48 hours. Single Operator stations may operate 36 of the 48 hours – off times must be a minimum of 60 minutes during which no QSO is logged. Multi-operator stations may operate the full 48 hours. Bands: 1.8, 3.5, 7, 14, 21, and 28 MHz bands may be used. Observance of established band plans is strongly encouraged. EXCHANGE: RS(T) report plus a progressive contact serial number starting with 001 for the first contact. Note: Multi-Two and Multi-Unlimited entrants use separate serial number sequences on each band. See http://www.cqwpx.com/rules.htm
Hammies Sprint: Aim: This is a fun activity to promote contacts between Hammies and radio amateurs in Southern African countries with an emphasis on ZU stations. Date and Time: 14:00 to 15:00 UTC 10 June 2018. Exchange: RS and provincial abbreviation, DX for all stations outside South Africa. Frequency and mode: A phone contest on the 40-metre band, 7 063 to 7 100 and 7 130 to 7 200 kHz. See Blue Book for more details
South African Radio League Top Band QSO Party: Aim: This is a fun activity to promote contacts on 160 metres between radio amateurs in Southern African countries and to encourage radio amateurs to apply for the South African Radio League Top Band Award. Date and Time: 00:00 UTC on Thursday 21 June 2018 to 00:00 UTC on Monday 25 June 2018. Frequency: CW: 1 810 – 1 838 kHz, Phone: 1 840 – 2 000 kHz. Exchange: The exchange is a RS(T) report and provincial or country abbreviation. See Blue Book more details
His Majesty The King of Spain SSB Contest: Dates: 1200 UTC Saturday till 1159 UTC Sunday (June 23-24, 2018). Bands: 10, 15, 20, 40, 80 and 160 meters, in the segments recommended by the IARU for this mode. Exchange: Spanish stations send RST and the Province abbreviation and Special station His Majesty The King of Spain (EA0) will pass the abbreviation (SMR). DX stations send RST and serial number starting with 001. See https://concursos.ure.es/en/s-m-el-rey-de-espana-ssb/bases/
UKRAINIAN DX DIGI CONTEST: 12.00 UTC Saturday , through 12.00 UTC Sunday 23-24 June. MODE: RTTY 75bd and PSK63 only. BANDS: 3,5 – 7 – 14 - 21 - 28 MHz without WARC bands. Exchange: Non-Ukrainian stations transmits RST & QSO number beginning from 001. Ukrainian stations transmits RST & two letters denoting the province(oblast). http://www.izmail-dx.com/
Commercial Hamads

ZS2BL's S.A. HAMSHACK
Direct importer of a wide selection of SWR meters, H.F., V.H.F. and U.H.F. base and mobile antennas. Amateur radio transceivers, antenna analyzers, etc. Affordable shipping costs for out of town customers and subsidized shipping to SARL members. Check out all my amateur radio goodies here. 0720268909.
Light Engineering Works
General engineering, part remanufacturing turning, milling, drilling.Specialised welding of steel, stainless steel, aluminium and cast iron.Gear repair and remanufacturing.Prototype industrial and automotive parts and brackets made to specification, Heavy duty antenna support and Mobile brackets including standoff brackets and antenna parts manufactured.Tower and tower part repairs also undertaken. Contact Willie Wright ZS6WC.0823351356. zs6wc@vodamail.co.za
---
Place your commercial hamads on the home page. Book a six months space for R300 or 12 months at R500 prepaid with order The advertisements will be text only up to 60 words including address, telephone number and click through URL to advertisers' website and email address. Adverisement can be changed Send your contact details to admin@sarl.org.za and we will contact you or call the NARC at 011 675 2393
---
What is Amateur Radio ?
Tell me more about Amateur Radio
Radio Amateurs, or "Hams" use two-way radio communication to make contact with other radio amateurs all over the world. They are even able to use satellites and on occasion speak with astronauts. Radio Hams can do this from
home or while mobile in cars, boats or on foot.

Radio Hams have a full range or communication modes at their disposal. These include plain voice, Morse code, numerous digital computer modes and even graphical modes like television. As a licensed amateur radio operator you will be able to join in experiments using all these modes.

Amateur radio can be enjoyed by young and old, male and female, even the most severely disabled can make friends around the world from their own home. This hobby knows no boundaries.
---
Random Photo from the Call book.

Hibiscus Coast Amateur Radio Club, ZS5HAC
---