SARL TODAY!
BREAKING NEWS:
ICASA appoints a chief executive officer - Ms Tshiamo Maluleka-Disemelo has been appointed chief executive officer of ICASA for a contract period of 5 years. Prior to her appointment as CEO, Ms Maluleka-Disemelo served as the Chief Audit Executive (CAE) of ICASA, a position she has held since 2020.
"In addition to her other qualifications, Ms Maluleka-Disemelo holds a Master of Business Administration Degree from Milpark Business School. She brings nearly two decades of governance, audit, and risk management experience, as well as advanced skills in spearheading executive efforts. In her position as CAE she has collaborated with Council to develop, amongst others, ICASA's strategic plan, annual and operational performance plans, policies and procedures for managing organisational risks, and as such contributed to the effective management of the organisation", said Dr Charley Lewis, acting chairperson of ICASA.
Ms Maluleka-Disemelo's appointment comes five months after the interim appointment of Adv Nkhetheleni Gidi as Acting CEO. The Council of ICASA thank the outgoing acting CEO, Adv Gidi, for providing a seamless transition, leadership, and guidance over the past six months and for contributing to the Authority's success. "
"He resumes his role as executive: policy, research and analysis, his skills and institutional knowledge will remain an asset to the team at the Authority," says Dr Lewis.
---
The February 2023 Radio ZS is available for download.
Join the SARL and pay the half-year rate. The Council decided to institute the half-year rate from Sunday 1 January 2023. Ordinary members pay R250, senior members pay R150, spouse members pay R90 while student members pay R60. The online membership application form is at www.sarl.org.za/public/membership/join.asp, fill it in and do an EFT into the SARL bank account using your call sign as the reference. E-mail your proof of payment to admin@sarl.org.za or call the SARL Office at 011 675 2393.
---
NEW RF SPECTRUM LICENSE FEES
During last week ICASA issued licence renewals for the 2023/24 licence year. Unfortunately, the notification to renew was sent out prematurely. At the time, the increase in fees had not been populated in the ICASA system and any invoice issued would have reflected an incorrect fee. The Authority therefore closed the renewal process. Any renewals paid on these notifications will be honoured by ICASA.
Licensees will receive another notification at the beginning of February in order for the renewal process to proceed. That annual increase is 6.9% and will be as follows: The fee for a one-year licence increases from R 166.00 to R 177.00; a two-year licence increases from R 317.00 to R 338.00; a three-year licence increases from R 455.00 to R 485.00; a four-year licence increases from R 579.00 to R 618.00 and a five-year licence increases from R 692.00 to R 738.00.
It is important to note that renewals need to be paid before Saturday 1 April 2023 as unpaid licences will expire after this date.
---
The 2023 SARL Contest Manual is available here
The 2023 Diary of Events is available here
---
SARL ON-THE-AIR BULLETINS AND AMATEUR RADIO TODAY PROGRAMME 29 JANUARY 2023
SARLNEWS with Herman Erasmus ZS6CTA listen here
SARLNUUS met Irene Myburgh ZS6IEA luister hier
Amateur Radio Today - Programme about Amateur Radio and technology hosted by Hans van de Groenendaal, ZS6AKV . The programme features news about amateur radio, reports on Hamnet, VHF and UHF, Satellites and HF plus teachnical features. One hour of Amateur Radio bliss. Listen or download here Today programme is 61 minutes long.

Transmissions: Sundays at 08:00 UTC on repeaters around South Africa including 145,750 and 145,725 MHZ in Pretoria. On HF 7 082 kHz by Louis, ZS5LP. Amateur Radio Today on 80 metres on Mondays - On Mondays Amateur RadioToday is transmitted at 19:30 local time on 3 620 kHz by Andy, ZS6ADY.

Note when SARL website is not available programmes will be posted on www.amateurradio.org.za. Reception reports are invited. Please send your report to artoday@sarl.org.za. Please give details of the signal strength antenna and location.

Text bulletins from 1 March 2020 to today can be found at https://sarlnewsbulletin.wordpress.com
---
A Template - Constitution and Rules for an Amateur Radio Club - get a copy here
---
Proposed Next Generation Radio Frequency Spectrum Policy - The Minister of Communication and Digital Services recently published the draft next generation frequency policy and has invited comments. The SARL has filed comment. A copy is available here.
---
Ethics and Operating Procedure for the Radio Amateur EN IARU ed3 2 Jan 2009 - download your copy here. Ongelukkig is dit nog nie na Afrikaans vertaal nie.
---
SARL Taking Amateur Radio into the Digital AGE - Presentations made at the annual SARL symposium will be available on YouTube.
Keynote address : Why Radio Amateurs should care about encryption by Dominic White ZS6HAK, CEO of Orange Cyberdefense. View here
SDR Applications for Amateur Radio
Presented by Sylvain Azarian F4GKR President IARU-R1
View here
Next Generation Beacon- update by Brian Jacobs ZS6YZ View here
---
South African VHF, UHF and Microwave Record Table. The latest table of records is available from the VHF SA Record page. Compiled and updated by Paul, ZS6NK - send your record claim to zssixnk@gmail.com
---
SARL Next Generation Beacon fund stands at R30 150 - The crowd funding initiative to collect funds for the SARL next generation beacon programme was initiated by AMSAT SA. During the past week R2000 was received from two donors. The fund moved f past the half way mark which is still far short of the R60 000 target required to finance a beacon in the Karoo and the Western Cape.
AMSAT SA and the SARL thank all who have thus far contributed. Help us make it happen by making your donation to the fund. Visit www.amsatsa.org.za and make your contribution by clicking on one of the payment buttons for a R50, R250 or R1000 donation. The button will take you to the Payfast website where you need to enter your credit card details. Please also add your callsign after your surname.
---
The IARUMS Region 1 Newsletters are available on iaru-r1.org and read it!
---
New Satellite Book now available - The new ARRL Amateur radio satellites for beginners is now available in South Africa. With the opening of e-commerce, Postnet is operating again and books can be sent to your nearest Postnet. You can make contacts through amateur radio satellites, and even with the International Space Station, using equipment you probably own right now! All it takes is the right information, which you will find in Amateur Radio Satellites for Beginners by Steve Ford
There are dozens of spacecraft in orbit just waiting for your signals, and more are being launched every year. This book is your guide to a whole new world of operating enjoyment.
Amateur Radio Satellites for Beginners will introduce you to new experiences that you may have thought were out of your reach. Start reading and discover how easy it can be! To order the book visit www.amateurradio.org.za. 115 pages plus index.
---
Guidelines for a non SARL member to use the SA-QSL system- Phone Kelley at NARC (011 675 2393) and check that your correct information is on the database – license number and e-mail address are important.
Click on SA-QSL system link (on the left-hand side of the web page) and then click on "Need to Register". Follow the instructions on the screen. Your username and password will be e-mailed to you which you can use to logon in future.
SARL and not yet SARL Members are requested to check their Electronic QSLs on a regular basis.
---
2023 Advertising in Radio ZS and the SARL Web site
Radio ZS and the SARL web welcomes advertising, it is a source of information for readers. Send your advertisement to Dennis, ZS4BS at radiozs@sarl.org.za.
Advertising Rates (effective 1 January 2023)
Display (cameo) on home page and Radio ZS: R300 pm; R1 700 for 6 months; R3 000 per annum
Commercial Hamad on home page - R100 pm – R300 for 6 months – R700 per annum
Terms and conditions
All contract advertisements content may be changed monthly on 5 working day notice.
The rates are based on the complete supply of material in Jpeg unless otherwise negotiated. For artwork additional charges may apply as agreed. A design service is available at R400 per advertisement.
The content of the advertisements must comply with regulations and norms acceptable in South Africa
All advertisements are playable in advance by EFT to SA Radio League, ABSA, account no 4071 588 849 branch code 632 005.
All correspondence and material must be sent to radiozs@sarl.org.za
HF Update with Dennis, ZS4BS - 29 January 2023
Seychelles, S7. Peter, G4HSO will be active holiday style as S79/G4HSO from the Seychelles between 1 and 21 February. Probably he will operate only CW and VarAC (www.varac-hamradio.com/) from three different locations. QSL via LoTW, no paper QSLs.
Senegal, 6W. Willy, ON4AVT will be active again as 6W7/ON4AVT from Warang, Senegal from 6 February to 31 March. Usually, he operates mainly FT8 with some SSB and CW on 80 – 10 m; he will be active also on the QO-100 satellite. QSL via Club Log's OQRS (preferred), or via home call.
Lesotho, 7P. Yuris, YL2GM will be active as 7P8WW from Lesotho from 26 January to 4 February. He will operate CW, SSB, RTTY and FT8 on 160-10m. QSL via Club Log's OQRS, or via YL2GN; the full log will be uploaded to LoTW six months after the end of the DXpedition. See https://www.lral.lv/7p8ww/index.html for more information.

Timor-Leste, 4W. Satoshi, JH2EUV has been active again as 4W/JH2EUV from Timor-Leste (OC-148) since 21 January, length of stay unknown. He operates FT8 on various bands. QSL via LoTW, or to home call via the bureau.
Philippines, DU. Jacek, SP5APW will be active as DU1/SP5APW/p from Marinduque Island (OC-244) between 9 and 14 March and as DU1/SP5APW from Calayan Island (OC-092) between 18 and 26 March. He will operate SSB and FT8 on 40 to 10 metres and digital on 6 metres. See https://oc-092.blogspot.com/ for more information. QSL via Club Log's OQRS.
Temotu Province, H40. Heye DJ9RR, Laci HA0NAR, Paul N6PSE, Walt N6XG, Rob N7QT, Jun OE1JUN (JH4RHF), Sandro VE7NY and Arliss W7XU will be active as H40WA from the Temotu Province from 31 October to 14 November. Plans are to operate CW, SSB, RTTY and FT8 on 160 to 10 metres with three stations and a significant effort on the low bands. Donations will be gratefully accepted; for more information and updates bookmark https://intrepid-dx.com/temotu2023/ and the expedition's Facebook page www.facebook.com/groups/h40wa.
Cocos Islands, VK9C. Nobby, G0VJG will be active as VK9CVG from the Cocos (Keeling) Islands (OC-003) between 17 and 24 February. He will operate SSB and some FT8 on 80 to 10 metres. QSL via M0OXO's OQRS. Before that, between 12 and 16 February, he will be active as VK6/G0VJG from Australia.

Nepal, 9N. Robert, 9N7AA (S53R) has been back to Kathmandu, Nepal since 16 January, and is "enjoying good conditions on 12 and 10 metres. The local QRM is bearable higher in the spectrum, while it is getting worse and worse on 17 m and below. Antenna for 80 and 160 has been removed. While I could easily reach Europe with very decent signal, only a single QSO was made on 160 and a few more on 80. Local interference prevents any meaningful activity on lower bands. For the autumn, the plan is to activate a QTH within the Kathmandu valley, but away from populated areas, covering 160 – 40 m. I have identified a couple of good locations which should not suffer so badly from QRM, as is the case in the city. Till then, will continue to operate higher bands, while also preparing some extra RX stuff for this year's 6 m season." QSL via LoTW, or S57DX (direct only); log search on Club Log.
US Virgin Islands, KP2. Gene, W8NET will be active as N8V from St. Croix, US Virgin Islands (NA-106) between 6 and 10 February. He will operate SSB and FT8 on 80, 40, 20, 17 and 10 metres, and plans to activate three POTA (Parks on the Air) counters. QSL via LoTW, Club Log's OQRS, eQSL, or direct to W8NET.
---
CW Operators
CW Operators' Club Accepting Nominations for Advancing the Art of CW Award
The CW Operators' Club (CWops) is now accepting nominations for the 2023 Advancing the Art of CW Award. This award recognizes individuals, groups, or organizations that have made the greatest contribution(s) toward advancing the art or practice of radio communications by Morse code.
Award candidates must be one or more of the following: authors of publications related to CW; CW recruiters, trainers, mentors, coaches, or instructors; public advocates of CW; organizers of CW activities; designers and inventors who advance the art or practice of CW, and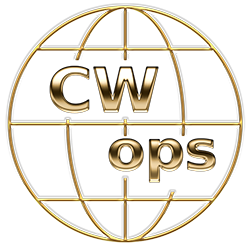 other contributors to the art or practice of CW.
The award is not limited to amateur radio operators or their organizations, and nominations may be made by anyone, not just CWops members.
Nominations must be emailed to awards@cwops.org and secretary@cwops.org by March 10, 2023. Those submitting nominations will receive an email confirmation acknowledging receipt. Nominations must include: a detailed explanation supporting nominee qualifications according to the above criteria; nominee(s) name(s), call sign(s) if applicable, and contact information, including their postal address(es), email address(es), and telephone number(s); as well as the name, telephone number, email address, and call sign (if applicable) of the person submitting the nomination(s).
The winners will be announced and presented with a plaque at Dayton Hamvention® 2023. If a recipient is not present, their plaque will be sent to them.
Information about past recipients, dating back to 2016, can be found at https://cwops.org/cwops-award-winners. For more information about the award criteria, visit https://cwops.org/the-cwops-award-for-advancing-the-art-of-cw.