SARL TODAY!
BREAKING NEWS:
Are you between 16 and 25years old, have a class A or B radio amateur licence and interested in meeting other amateurs from around the region, then maybe this is your opportunity. Contact Guy (ZS6GUY) at guyeales.ge@gmail.com for more information.
The 2023 SARL National Convention - the AGM Booklet and other relevant documentation is available by clicking here. The Registration Form is available here!
The March 2023 issue of Radio ZS is available for download from the Publications link on the left.
The Radio ZS Index from 1925 to March 2023.
DISTRIBUTION OF SARL NEWS. SARL News for Sunday 5 March 2023 will be the last news bulletin to be sent out via the MailChimp mailing list. From Friday 10 March, the number of e-mails per posting will be reduced to 500.
From Sunday 12 March 2023, the SARL News bulletins will be uploaded to https://sarlnewsbulletin.wordpress.com/ f and the SARL Facebook page rom where you can download the English or Afrikaans bulletin. Only the bulletin recorders on the News Team and readers will receive the bulletin by e-mail. If you read the SARL News for your Club, send your e-mail address to the SARL Secretary.
---
SARL ON-THE-AIR BULLETINS AND AMATEUR RADIO TODAY PROGRAMME 19 March 2023
SARLNEWS with Dennis Green ZSBS listen/download here
SARLNUUS met Christo de Witt ZS3CDW luister hier
Amateur Radio Today - Programme about Amateur Radio and technology hosted by Hans van de Groenendaal, ZS6AKV . The programme features news about amateur radio, reports on Hamnet, VHF and UHF, Satellites and HF plus technical features. One hour of Amateur Radio bliss. Listen or download here Today programme is 60 minutes long.

Transmissions: Sundays at 08:00 UTC on repeaters around South Africa including 145,750 and 145,725 MHZ in Pretoria. On HF 7 082 kHz by Louis, ZS5LP. Amateur Radio Today on 80 metres on Mondays - On Mondays Amateur RadioToday is transmitted at 19:30 local time on 3 620 kHz by Andy, ZS6ADY.

Note when SARL website is not available programmes will be posted on www.amateurradio.org.za. Reception reports are invited. Please send your report to artoday@sarl.org.za. Please give details of the signal strength antenna and location.

Text bulletins from 1 March 2020 to today can be found at https://sarlnewsbulletin.wordpress.com
---
Interference from solar installations- As the South African public are realising that they are on their own and facing the many challenges of loads heading, self-generating electricity by households and businesses have become the norm.
Generally, Radio Amateurs should not experience interference on HF or VHF from properly installed solar power installations but unfortunately it does occur when unqualified people do not install the system properly and use poor quality inverters and solar maximisers.
Often fitting ferrite beads and basic filters will solve the inference problem.
By design solar installations are not expected to radiate radio frequencies (RF) and cause interference as the necessary circuits suppress any RF radiation should be included in the design. There however are suppliers that will install equipment of inferior quality. Solar installers are expected to issue COC's, certificate of compliance, but these certificates generally only cover the electrical installation.
If a neighbour installs a solar system and it kills HF, there are two approaches. Point out to him or her that the installation is causing radio interference and that he should insist that his installer sorts out the problem. If that fails it is necessary to send a written complaint with details of the interference to the manager of the local ICASA office. ICASA is fully quipped to do the necessary test and advise the owner of the installation to have the problem seen to or switch off his system.
The addresses of the local ICASA managers can be found on http://www.sarl.org.za/public/licences/licences.asp. Please your copy your letter to the SARL at secretary@sarl.org.za and Chris, ZS6GM at chris@crturner.net and keep the SARL informed of progress of the complaint.
Join now Pay less - Join the SARL and pay the half-year rate. The Council decided to institute the half-year rate from Sunday 1 January 2023. Ordinary members pay R250, senior members pay R150, spouse members pay R90 while student members pay R60. The online membership application form is at www.sarl.org.za/public/membership/join.asp, fill it in and do an EFT into the SARL bank account using your call sign as the reference. E-mail your proof of payment to admin@sarl.org.za or call the SARL Office at 011 675 2393.
---
NEW RF SPECTRUM LICENSE FEES
During last week ICASA issued licence renewals for the 2023/24 licence year. Unfortunately, the notification to renew was sent out prematurely. At the time, the increase in fees had not been populated in the ICASA system and any invoice issued would have reflected an incorrect fee. The Authority therefore closed the renewal process. Any renewals paid on these notifications will be honoured by ICASA.
Licensees will receive another notification at the beginning of February in order for the renewal process to proceed. That annual increase is 6.9% and will be as follows: The fee for a one-year licence increases from R 166.00 to R 177.00; a two-year licence increases from R 317.00 to R 338.00; a three-year licence increases from R 455.00 to R 485.00; a four-year licence increases from R 579.00 to R 618.00 and a five-year licence increases from R 692.00 to R 738.00.
It is important to note that renewals need to be paid before Saturday 1 April 2023 as unpaid licences will expire after this date.
---
The 2023 SARL Contest Manual is available here
The 2023 Diary of Events is available here
---
A Template - Constitution and Rules for an Amateur Radio Club - get a copy here
---
Ethics and Operating Procedure for the Radio Amateur EN IARU ed3 2 Jan 2009 - download your copy here. Ongelukkig is dit nog nie na Afrikaans vertaal nie.
---
South African VHF, UHF and Microwave Record Table. The latest table of records is available from the VHF SA Record page. Compiled and updated by Paul, ZS6NK - send your record claim to zssixnk@gmail.com
---
SARL Next Generation Beacon fund stands at R30 150 - The crowd funding initiative to collect funds for the SARL next generation beacon programme was initiated by AMSAT SA. During the past week R2000 was received from two donors. The fund moved f past the half way mark which is still far short of the R60 000 target required to finance a beacon in the Karoo and the Western Cape.
AMSAT SA and the SARL thank all who have thus far contributed. Help us make it happen by making your donation to the fund. Visit www.amsatsa.org.za and make your contribution by clicking on one of the payment buttons for a R50, R250 or R1000 donation. The button will take you to the Payfast website where you need to enter your credit card details. Please also add your callsign after your surname.
---
The IARUMS Region 1 Newsletters are available on iaru-r1.org and read it!
---
New Satellite Book now available - The new ARRL Amateur radio satellites for beginners is now available in South Africa. With the opening of e-commerce, Postnet is operating again and books can be sent to your nearest Postnet. You can make contacts through amateur radio satellites, and even with the International Space Station, using equipment you probably own right now! All it takes is the right information, which you will find in Amateur Radio Satellites for Beginners by Steve Ford
There are dozens of spacecraft in orbit just waiting for your signals, and more are being launched every year. This book is your guide to a whole new world of operating enjoyment.
Amateur Radio Satellites for Beginners will introduce you to new experiences that you may have thought were out of your reach. Start reading and discover how easy it can be! To order the book visit www.amateurradio.org.za. 115 pages plus index.
---
Guidelines for a non SARL member to use the SA-QSL system- Phone Kelley at NARC (011 675 2393) and check that your correct information is on the database – license number and e-mail address are important.
Click on SA-QSL system link (on the left-hand side of the web page) and then click on "Need to Register". Follow the instructions on the screen. Your username and password will be e-mailed to you which you can use to logon in future.
SARL and not yet SARL Members are requested to check their Electronic QSLs on a regular basis.
---
2023 Advertising in Radio ZS and the SARL Web site
Radio ZS and the SARL web welcomes advertising, it is a source of information for readers. Send your advertisement to Dennis, ZS4BS at radiozs@sarl.org.za.
Advertising Rates (effective 1 January 2023)
Display (cameo) on home page and Radio ZS: R300 pm; R1 700 for 6 months; R3 000 per annum
Commercial Hamad on home page - R100 pm – R300 for 6 months – R700 per annum
Terms and conditions
All contract advertisements content may be changed monthly on 5 working day notice.
The rates are based on the complete supply of material in Jpeg unless otherwise negotiated. For artwork additional charges may apply as agreed. A design service is available at R400 per advertisement.
The content of the advertisements must comply with regulations and norms acceptable in South Africa
All advertisements are playable in advance by EFT to SA Radio League, ABSA, account no 4071 588 849 branch code 632 005.
All correspondence and material must be sent to radiozs@sarl.org.za
HF Update with Dennis, ZS4BS - 17 March 2023
Uganda, 5X. Pista, HA5AO will be active as 5X2I from Busabala, on the shores of Lake Victoria, Uganda from 24 April to 10 May. He will operate CW, SSB and MGM on 40-10m. QSL preferably via HA5AO's OQRS (https://ha5ao.com/oqrs/logsearch.php) for direct and bureau cards, or direct to HA5AO; the complete log will be uploaded to LoTW six months after the expedition.
Morocco, CN. Miguel, CT1EBM will be active as CN2EBM from 26 March to 9 April while on a 5 000-kilometre tour "through the cities and sands of the Moroccan desert". He will operate SSB and MGM on the HF bands and on SSB via the QO-100 satellite.
Italy, I. Celebrating the centenary of the Italian Air Force (28 March 1923), a large number of special call signs will be active from 20 March to 20 June: II0AQN, II0BPL, II0CMP, II0FRO, II0GUI, II0LAT, II0MVV, II0PDM, II0RMC, II1CAM, II2MIL, II2VNG, II3AFT, II3AVI, II3BLN,
II3GOR, II3IST, II4PNF, II5PIS, II5PON, II6PES, II7BRI, II7LEG, II8RCL, II8REG, II8VVL, II9CMS, II9CTF, II9CVT, II9PAB, II9SIG, II9TMM, IO5LUT, IO9MAR, IY1TO. The activity is organized by the Associazione Radioamatori Italiani (ARI) in collaboration with the Air Force General Staff; each call sign represents a place that had or still has significant importance in the ITAAF history. A certificate will be available; see www.ari.it/images/stories/diplomi/centenarioam23.pdf for information.
Niue, E6. Janusz, SP9FIH as E6AF (call sign to be confirmed) and Leszek, SP6CIK as E6CI (requested call sign) will be active from Niue (OC-040) from 26 March to 9 April. They will operate CW, SSB, RTTY and MGM on 40 - 10 metres with two stations. QSL via Club Log's OQRS. They have a website on http://www.e6.dxpeditions.org/.
South Cook Islands, E5_sc. Janusz, SP9FIH as E51WEG and Leszek, SP6CIK as E51CIK will be active from Rarotonga (OC-013), South Cook Islands between 13 and 28 April. They will operate CW, SSB, RTTY and MGM on 40 - 10 metres with two stations. They have a website on http://e5.dxpeditions.org/. QSL via Club Log's OQRS.
West Kiribati, T30. Soon the Rebel DX Group (including Kam, T30/T33KC, who is already setting up antennas) will be active as T30UN from North Tarawa, West Kiribati (OC-017) for about five weeks. Plans are to be active on 160 - 6 metres with two CW operators, one SSB operator and seven MGM stations. Note that it will be quite possible to see two MGM stations on the same band at the same time on two frequencies (one operating on the standard frequency, and the other operating F/H on a different frequency. QSL exclusively via Club Log's OQRS. See https://www.facebook.com/rebeldxgroup for updates.
New Caledonia, FK. Look for Philippe FK4QX, Yves FK4RD and Michel FK8IK to be active as TX5L from Lifou Island (OC-033), New Caledonia between 27 and 31 March. They will operate CW and SSB on 40-10 metres with two stations. QSL via F4FTV.
Austral Islands, FO/A. Haru, JA1XGI will be active as TX5XG from Raivavae (OC-114), Austral Islands between 12 and 19 April. He will operate CW, SSB, RTTY and MGM on 40 to 6 metres. All QSOs will be confirmed automatically via the bureau and LoTW; otherwise QSL via Club Log's OQRS or direct to JA1XGI. See https://australvacation.amebaownd.com for more information.
Barbados, 8P. Eliot, W1MJ will be active holiday style as 8P9MJ from Barbados (NA-021) between 18 and 25 March. Operating QRP CW using wire antennas, he hopes "to do at least one or two Parks on the Air sessions". QSL via LoTW.
Bahamas C6 - Steve, KG4LJB is active holiday style as C6AJB from Eleuthera (NA-001), Bahamas until 24 March. He operates MGM and SSB. QSL via LoTW ("I do not have the time or resources to issue paper QSL cards").
Guadeloupe, FG. Jean-Luc, F1ULQ will be active as TO1Q from Guadeloupe (NA-102) starting on 20 March for a couple of weeks. He will operate SSB and MGM on 80 to 6 m and will participate in the CQ WW WPX SSB Contest. QSL via LoTW, Club Log's OQRS or via F1ULQ (direct or bureau).
Antigua, V2. Bud, AA3B will be active again as V26K from Antigua (NA-100) between 21 and 27 March, including a SOAB HP entry in the CQ WW WPX SSB Contest. Outside the contest he will operate mainly CW. QSL via LoTW, Club Log's OQRS, or via home call.
Bonaire, PJ4. John, KK9A will be active as PJ4/KK9A from Bonaire (SA-006) between 21 and 27 March. He will operate CW and SSB on 80 - 10 metres and will participate in the CQ WW WPX SSB Contest as PJ4R. QSL for both call signs via WD9DZV.
---
CW Operators
CW Operators' Club Accepting Nominations for Advancing the Art of CW Award
The CW Operators' Club (CWops) is now accepting nominations for the 2023 Advancing the Art of CW Award. This award recognizes individuals, groups, or organizations that have made the greatest contribution(s) toward advancing the art or practice of radio communications by Morse code.
Award candidates must be one or more of the following: authors of publications related to CW; CW recruiters, trainers, mentors, coaches, or instructors; public advocates of CW; organizers of CW activities; designers and inventors who advance the art or practice of CW, and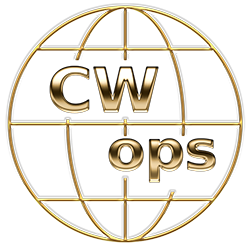 other contributors to the art or practice of CW.
The award is not limited to amateur radio operators or their organizations, and nominations may be made by anyone, not just CWops members.
Nominations must be emailed to awards@cwops.org and secretary@cwops.org by March 10, 2023. Those submitting nominations will receive an email confirmation acknowledging receipt. Nominations must include: a detailed explanation supporting nominee qualifications according to the above criteria; nominee(s) name(s), call sign(s) if applicable, and contact information, including their postal address(es), email address(es), and telephone number(s); as well as the name, telephone number, email address, and call sign (if applicable) of the person submitting the nomination(s).
The winners will be announced and presented with a plaque at Dayton Hamvention® 2023. If a recipient is not present, their plaque will be sent to them.
Information about past recipients, dating back to 2016, can be found at https://cwops.org/cwops-award-winners. For more information about the award criteria, visit https://cwops.org/the-cwops-award-for-advancing-the-art-of-cw.